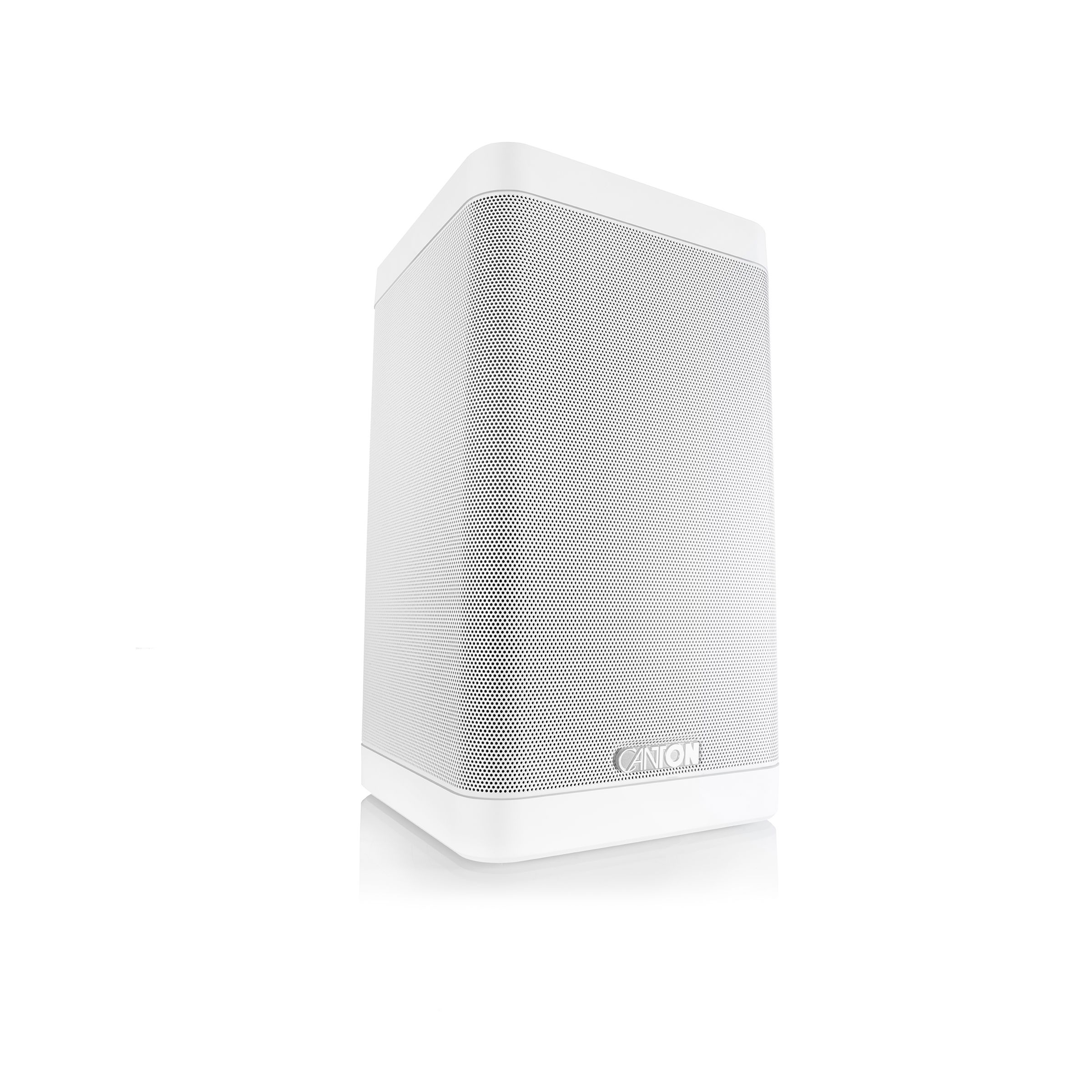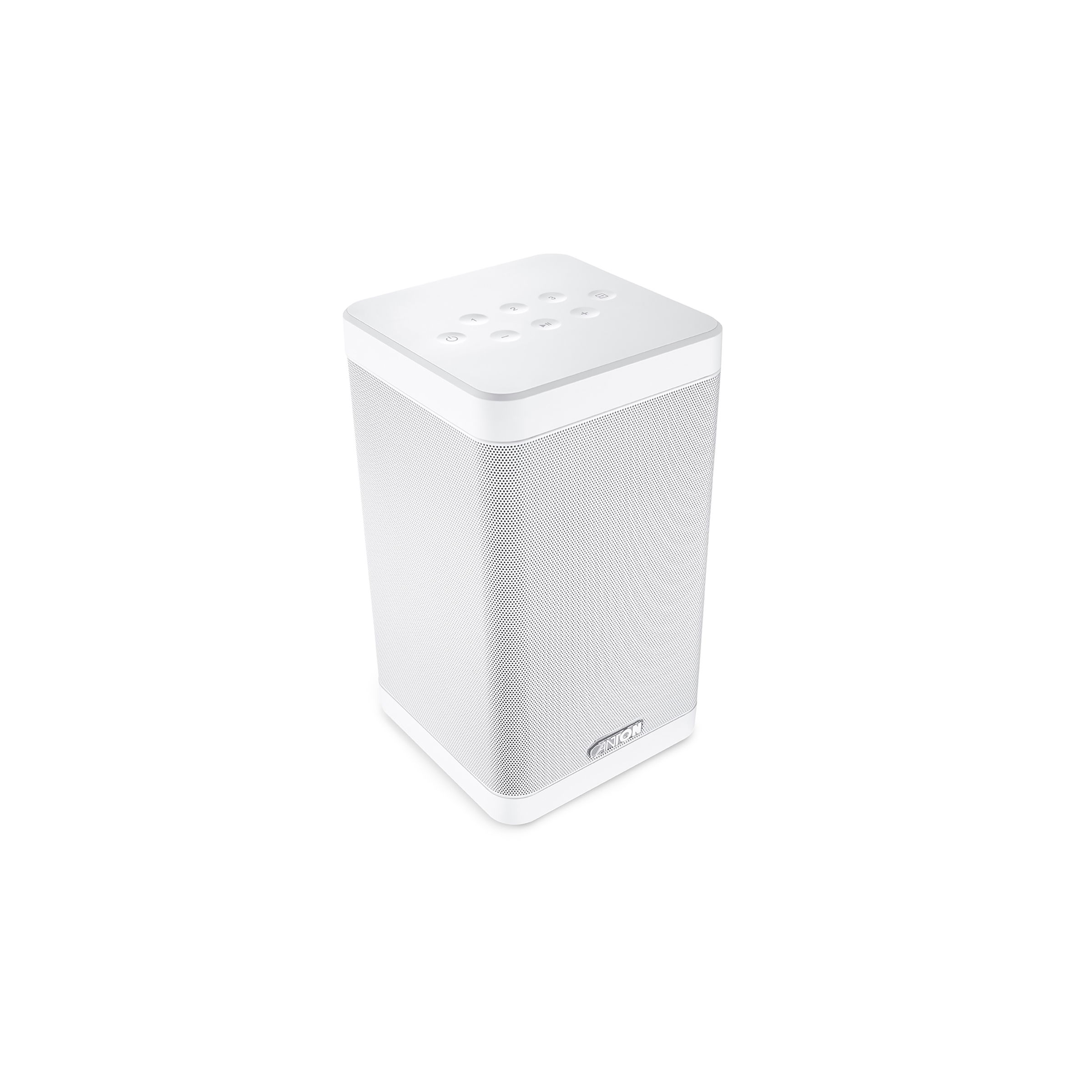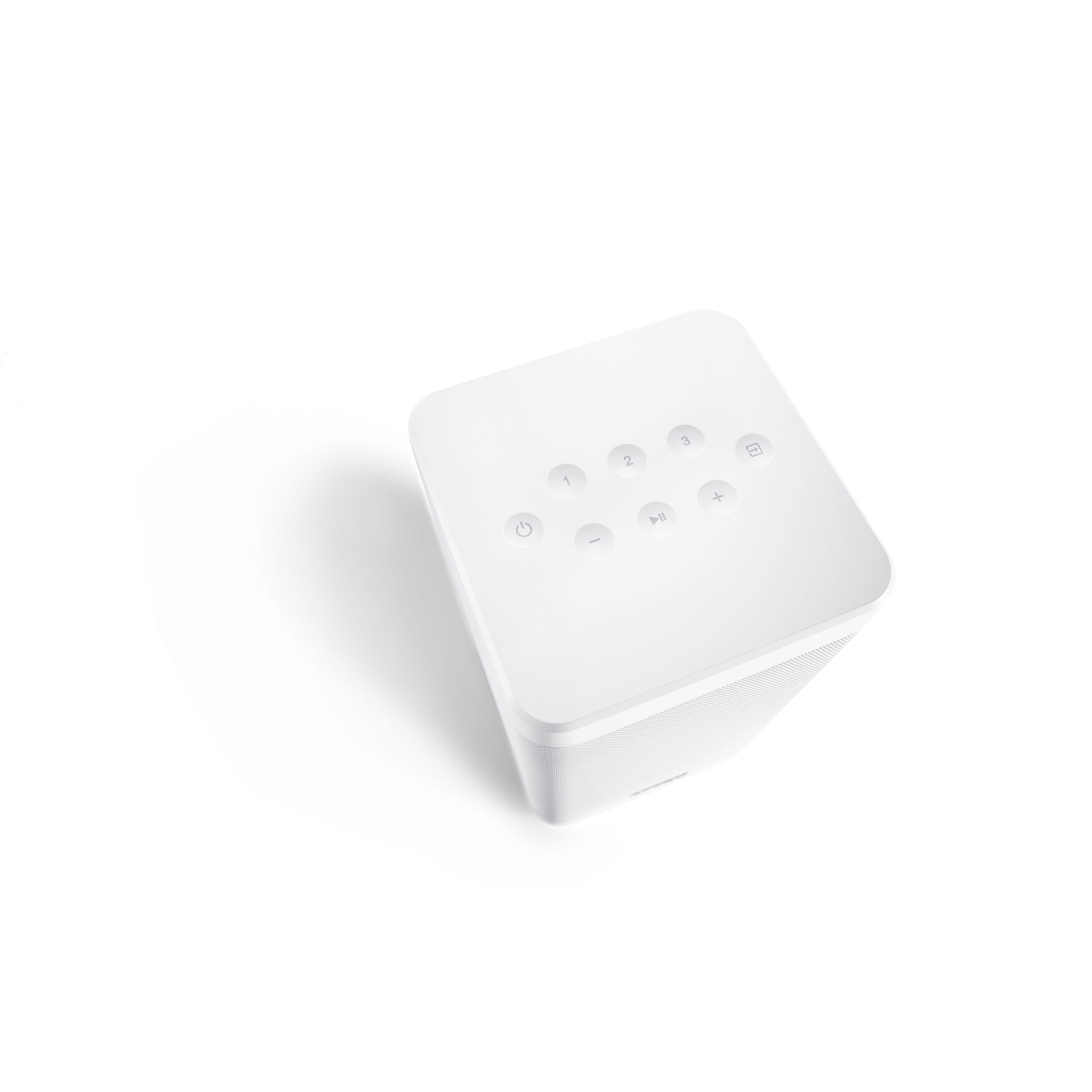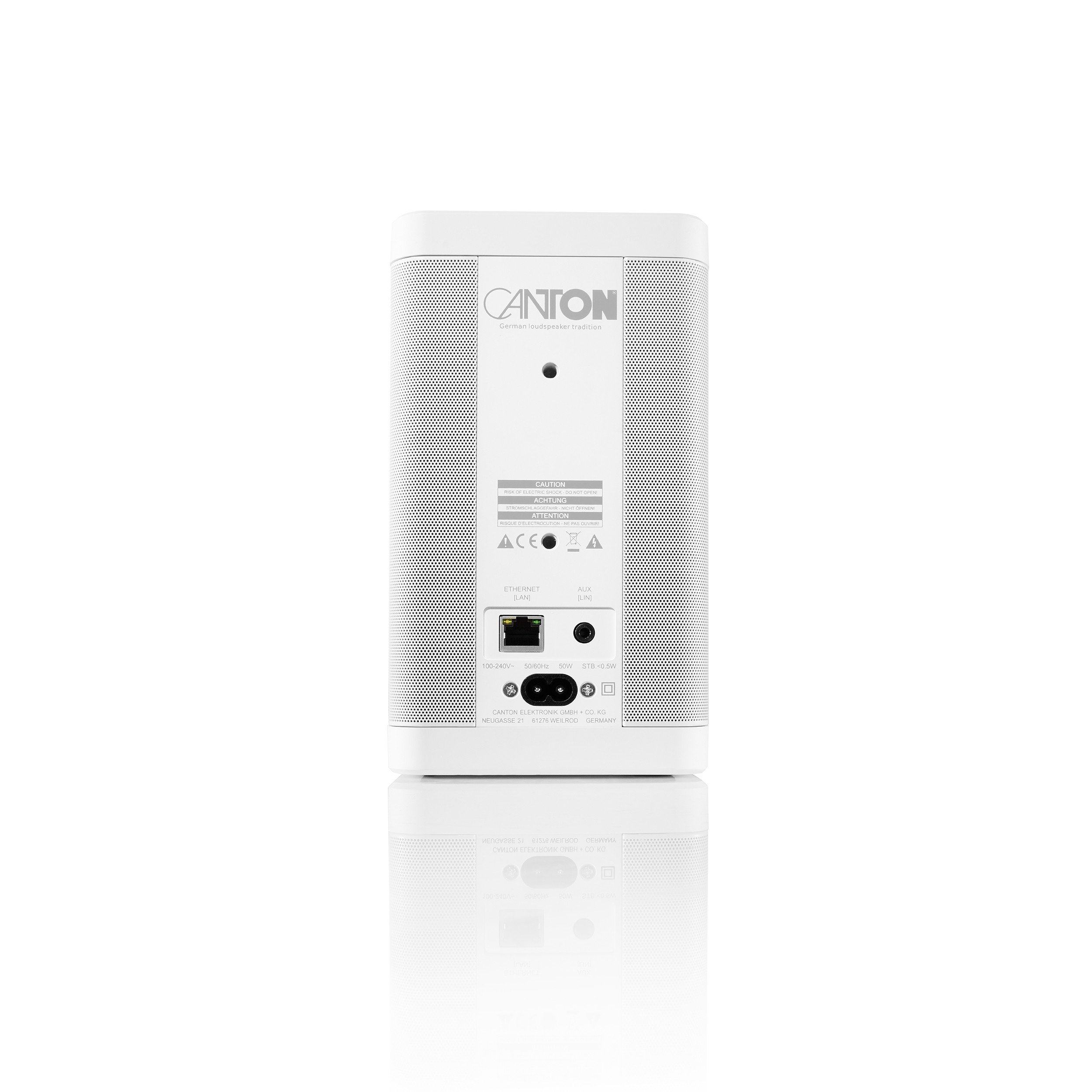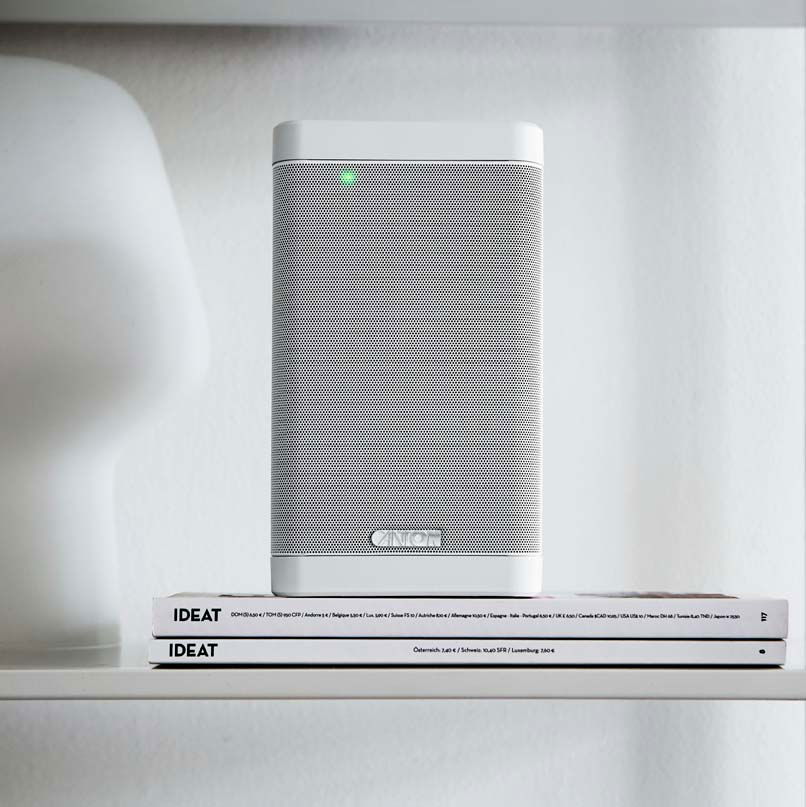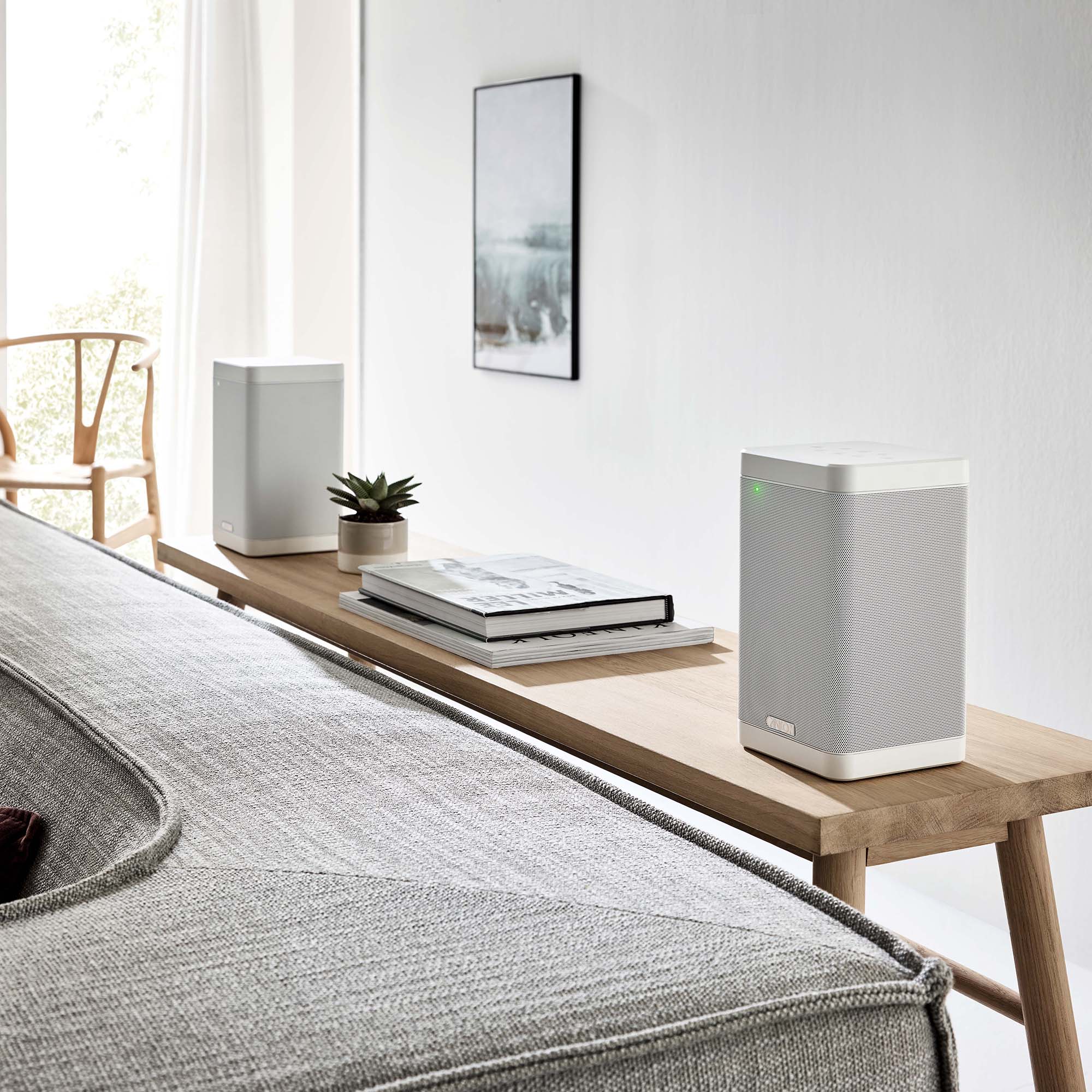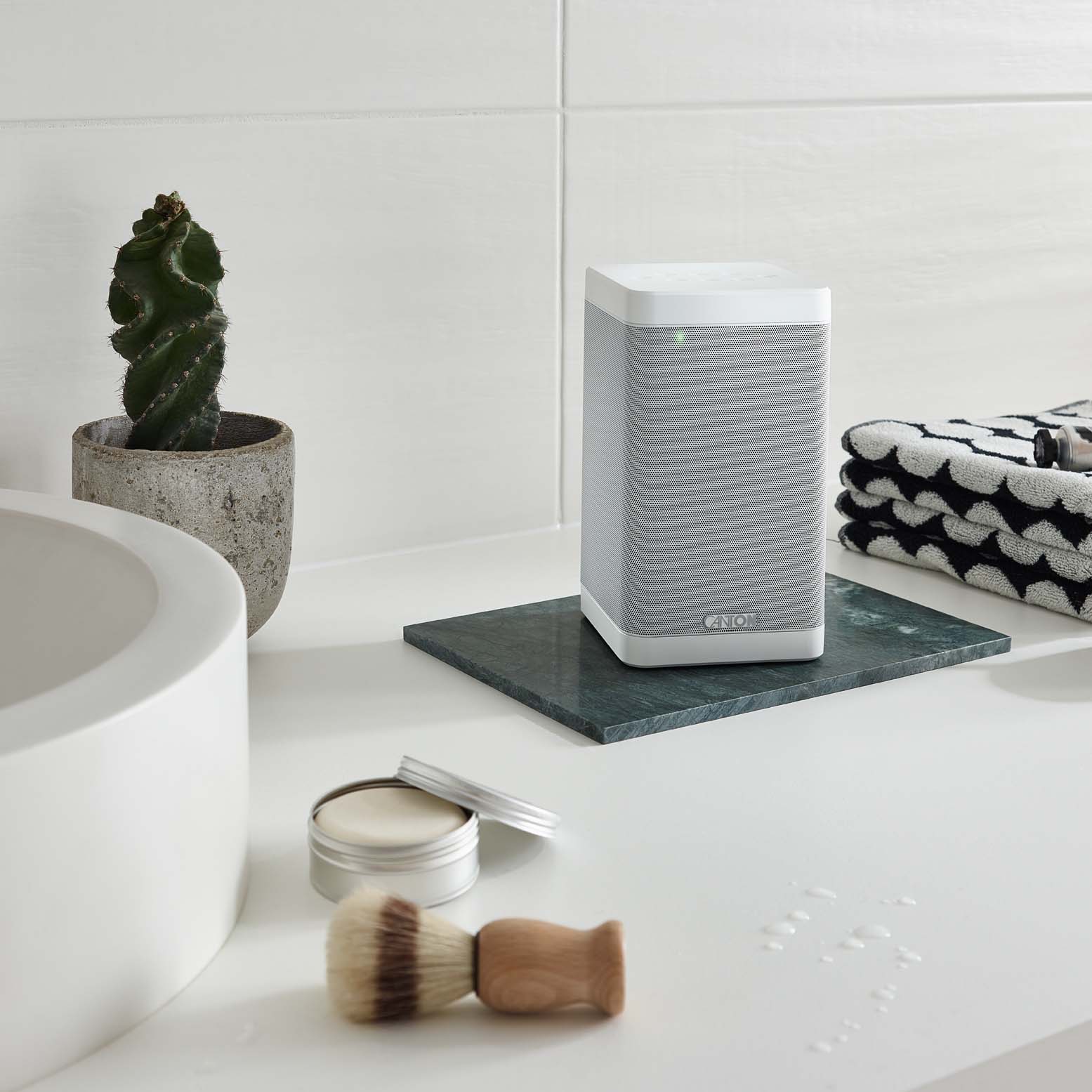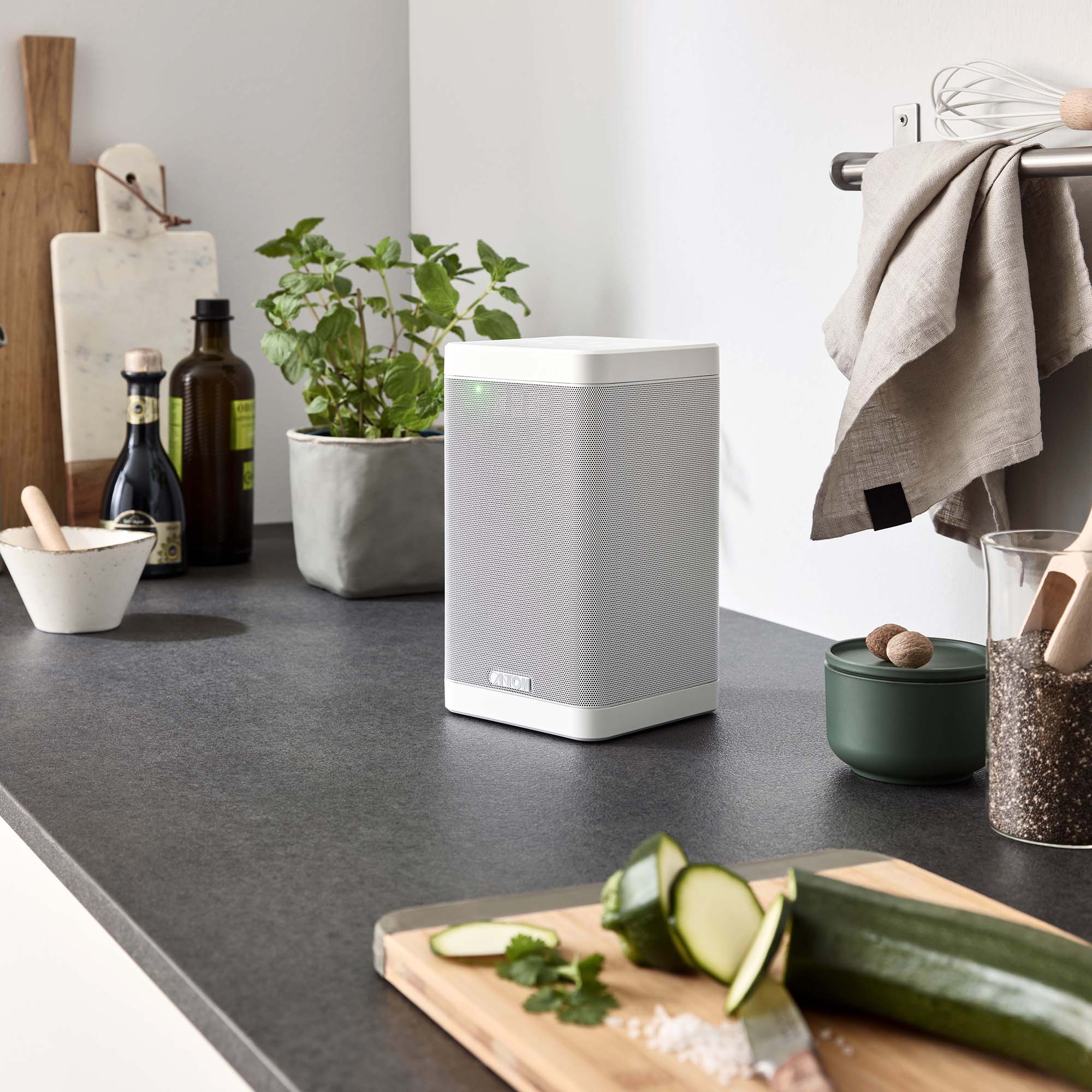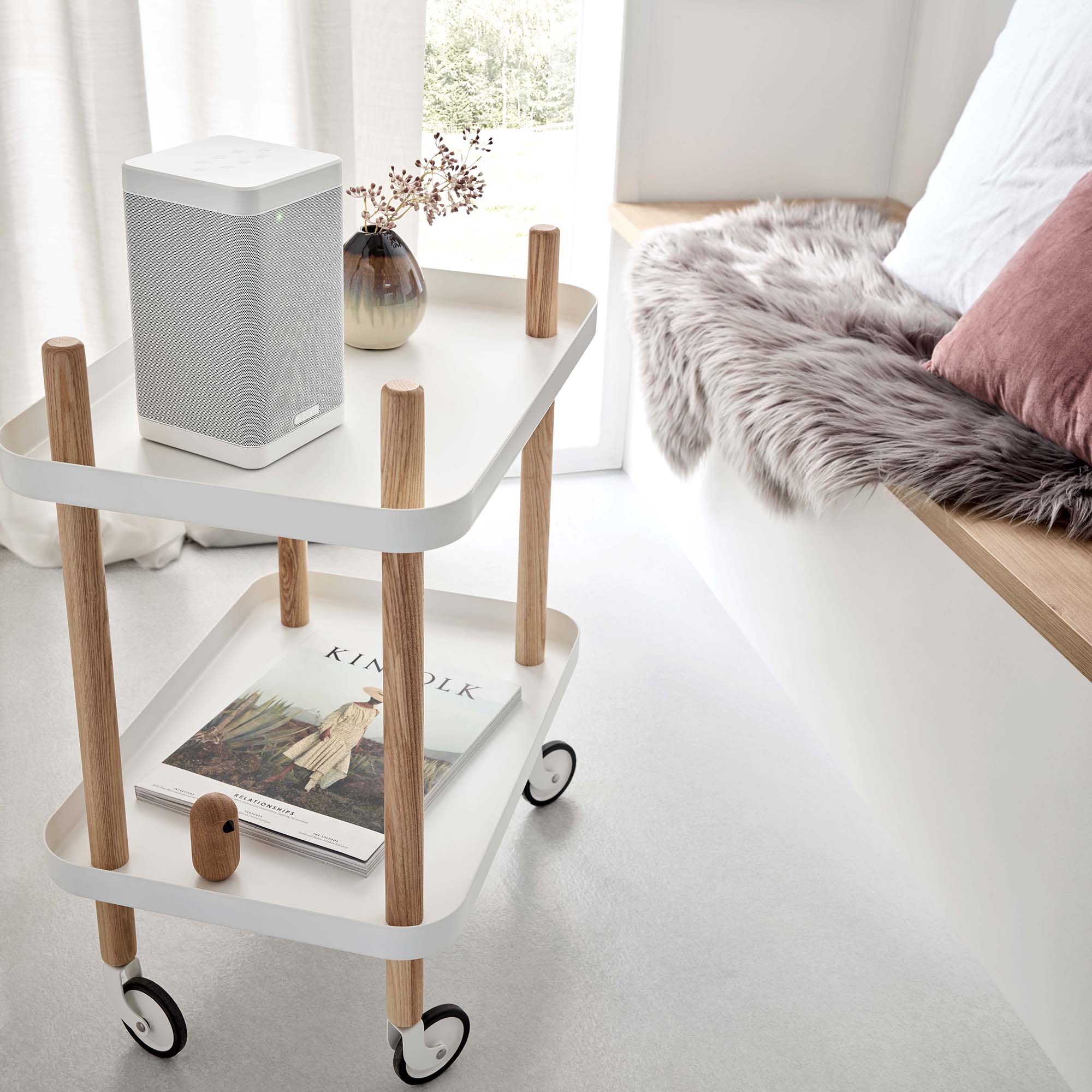 Smart Soundbox 3
Generation 2 (2021)
Find a distributor
Informations
Smart Wireless technology
AirPlay 2
Chromecast built-In
Spotify Connect
Item no.: 04164
Excellent sound
Thrilling TV and music sound with Dolby Atmos
Multiroom
Easy multiroom control
Easy operation
Operating keys and remote control for direct control
Chromecast built-in
Simple streaming options
Spotify Connect
Convenient music listening via integrated Spotify Connect
Extension
Flexibly expandable to a home cinema setup
More
Less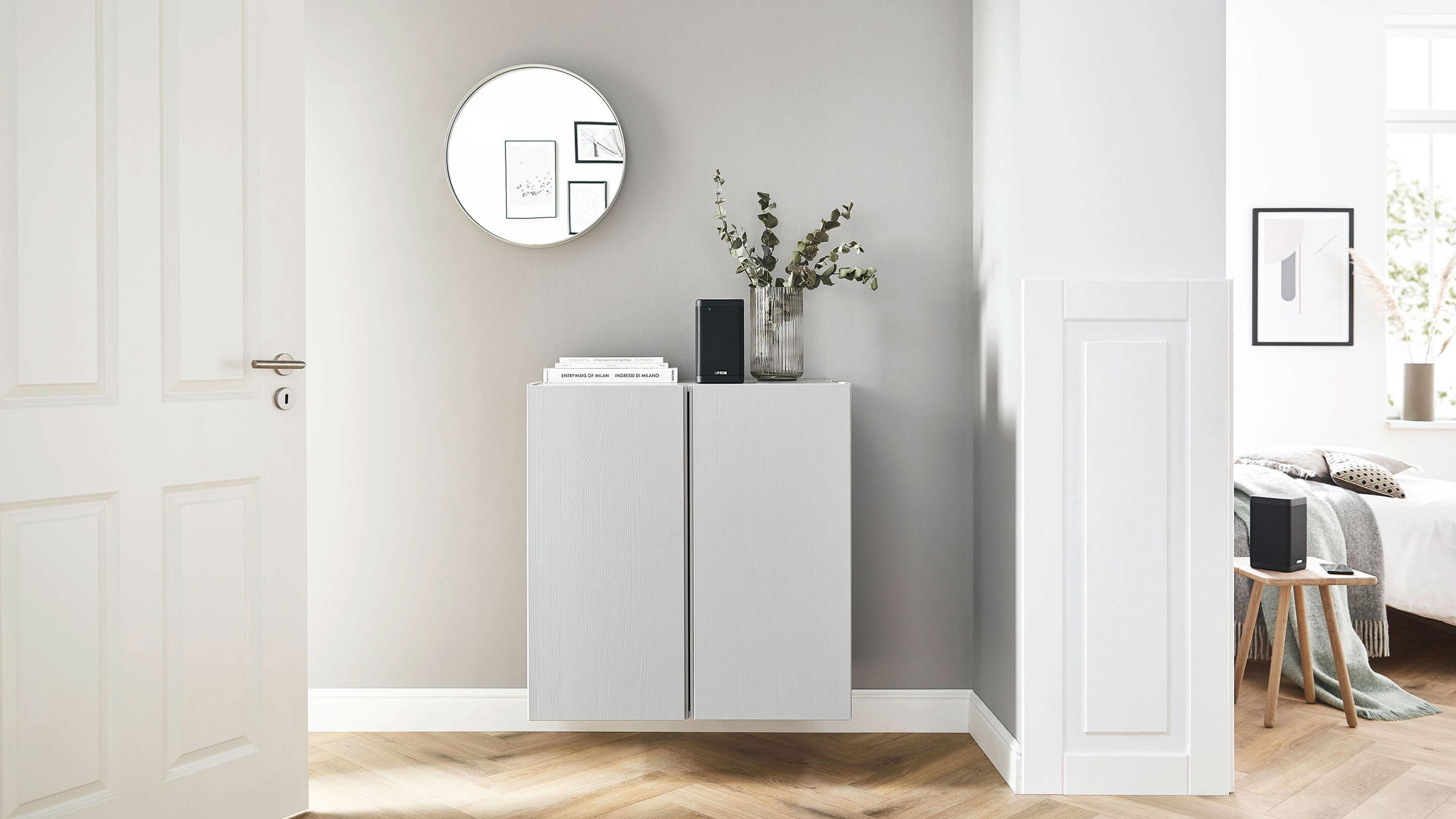 Great sound

Compact loudspeaker
For each room
The compact multi-room speaker Smart Soundbox 3 with integrated AirPlay 2 technology, Chromecast built-in and Spotify Connect provides room-filling sounds in an elegant design. The compact and powerful speaker can be easily set up via WLAN with AirPlay or the Google Home app and thus provides your smart home with music in the best audio quality. With a system power of 120 watts and versatile connection and use options, the active smart speaker is a match for any room - on its own, stereo with a second Smart Soundbox 3 or as part of a larger multi-room set in conjunction with other models from the Canton Smart series. Once connected to Wi-Fi, your favorite music can be distributed throughout your home at the touch of a button.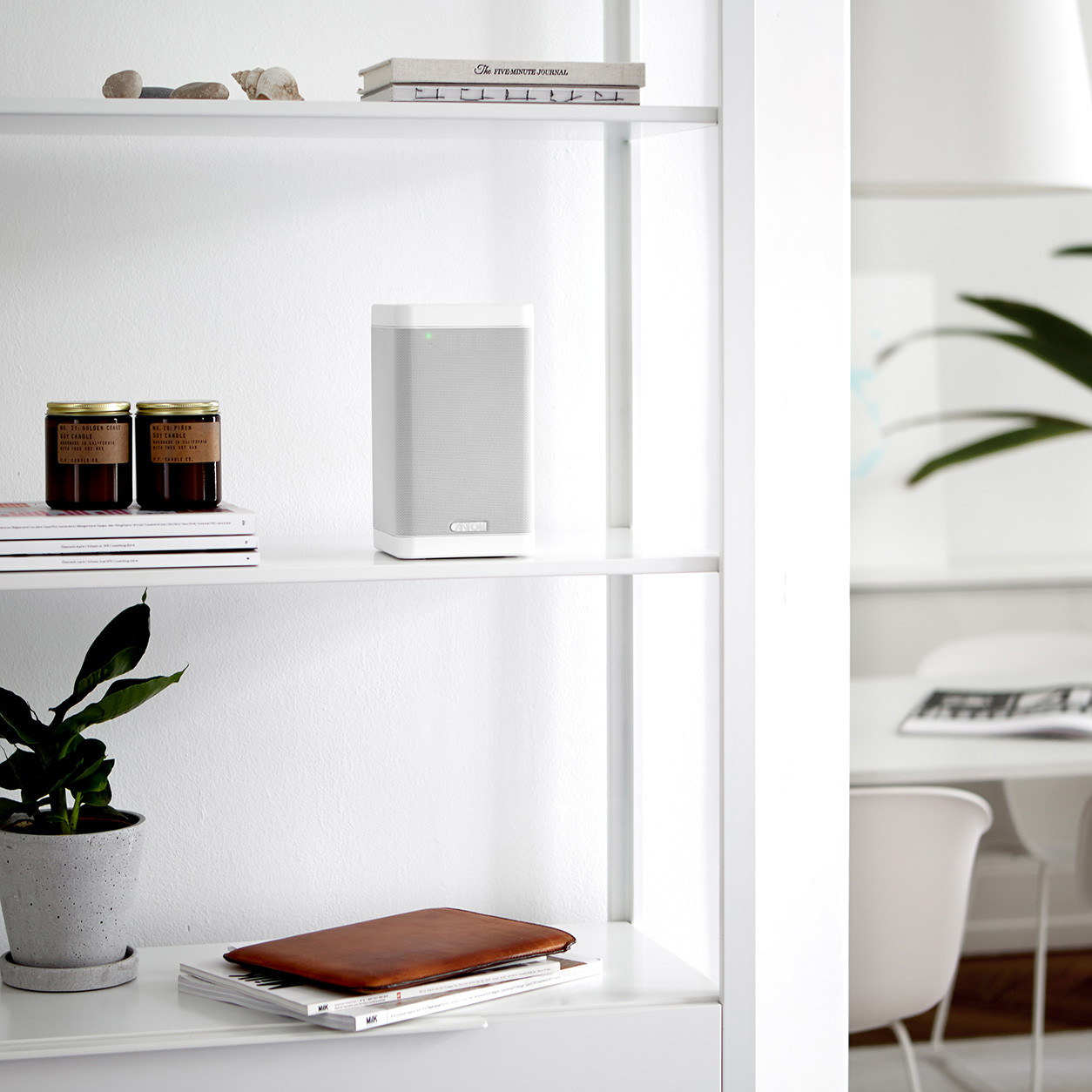 Excellent sound

Smart like never before
Once integrated into the Wi-Fi via AirPlay or Google Home, you can easily stream your favorite music to the Smart Soundbox 3 by simply selecting the AirPlay 2 or Chromecast icon in your preferred music app (such as Spotify, Apple Music, Deezer, etc.) and start playback. The speakers can be controlled directly from your smartphone or tablet, no matter which room you are in your home. You can use your smartphone to make calls, play games, send text messages while the music is playing, and leave the room at any time.
Wireless music streaming

in High-Res
Smart Soundbox 3 combines elegant design, top class sound and great technology. Thanks to the control buttons on the touch panel, it is easy to start music playback, change the volume or control the menu settings - everything is just a touch away. With the 3 memory buttons (presets), your favorite Spotify playlists and sound settings can be set and saved. This means your favorites are instantly at your fingertips - without having to use your smartphone. For playback, just press a button and your favorite music sounds everywhere in your home.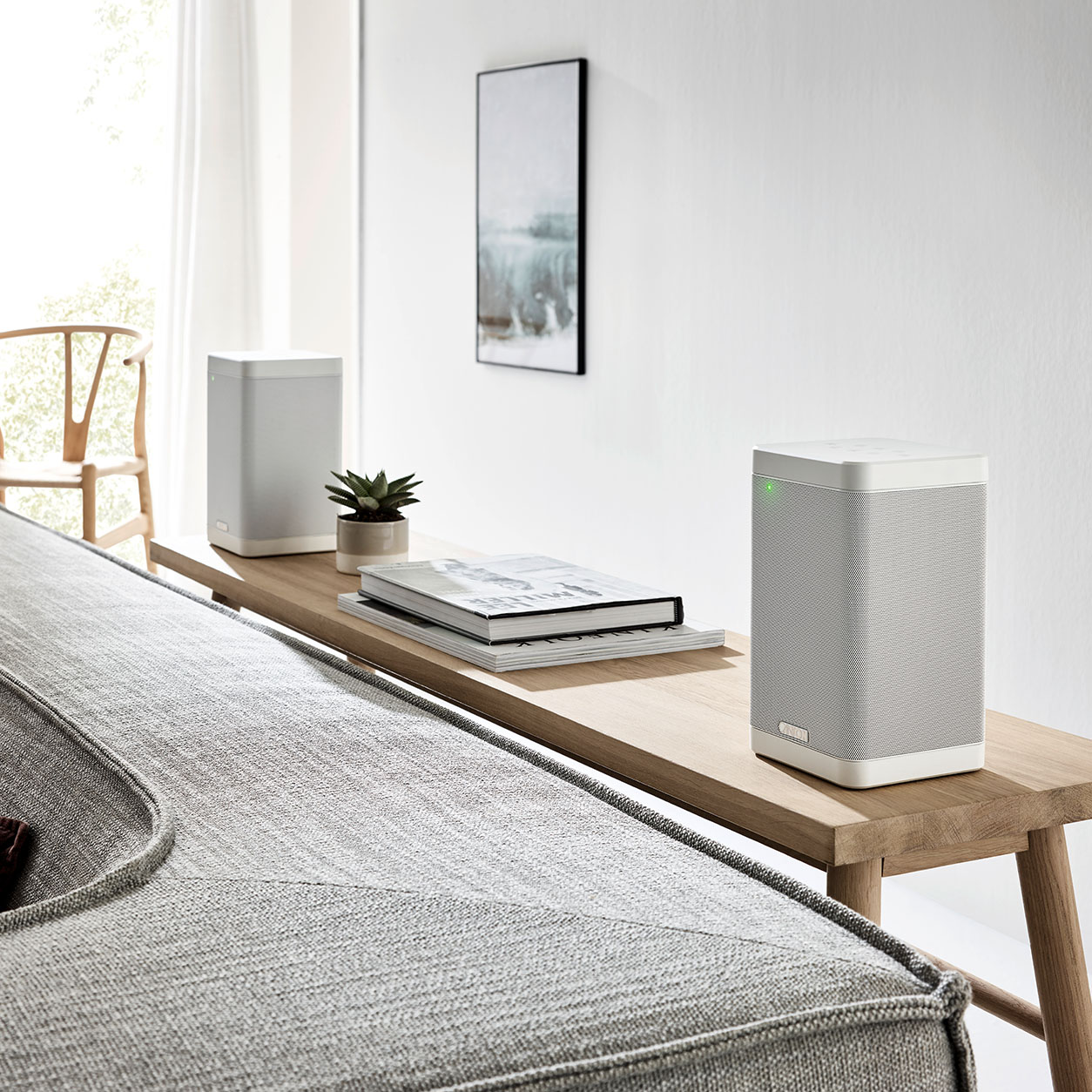 Multiroom oder Singleroom

You decide.
The Canton Smart World opens up many unique connection possibilities: With AirPlay 2 or the Google Home app, your favorite songs can be distributed throughout the house or connected as a singleroom solution per room to form an individual home cinema set. This way, additional Smart speakers per room can be connected wirelessly via the internal wireless network - whether as a large home theater set in combination with Smart products such as Smart Vento 9, Smart Vento 3 or even in combination with our Smart soundbars, the possibilities are flexible and perfect for any room situation, no matter how difficult.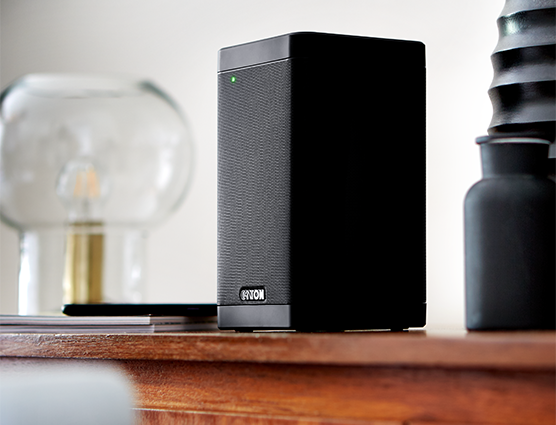 Favorite music

By voice command
In addition to manual operation via app, you can also start and pause playback, adjust the volume or operate an entire Canton Smart System by voice. Although there are no built-in microphones in the Smart Soundbox 3, it still offers the highest possible compatibility when it comes to voice control. To operate the Smart Soundbox 3 by voice, there are several options: Use the voice assistants Siri or Google Assistant of your smartphone or an external Apple or Google device of your choice. This way, you can choose to play your favorite music at the touch of a button or by voice in any room you want.
Smart Soundbox 3

Tutorial
In this video we introduce you to the new Smart Soundbox 3 with all its functions and features.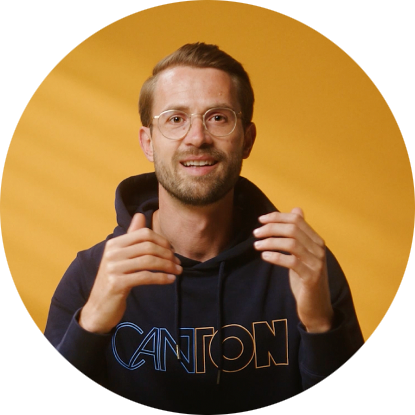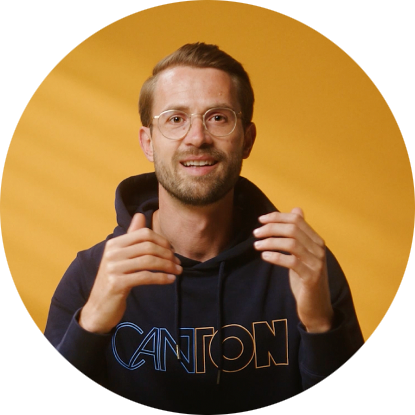 Smart Soundbox 3
Technical specifications
Smart Soundbox 3
Item no.: 04164
Shipping:
Package
Packing dimensions:
29 x 16 x 16 cm
Dimensions (WxHxD):
12 x 21 x 12 cm (4.4" x 8.3" x 4.4") cm
Acoustic principle:
2-Way Bass Reflex
Principle passive resonator:
Passive radiator
Radiation direction resonator:
Sidefire
Woofer/Midrange driver quantity:
3
Woofer/Midrange driver size:
95 mm
Woofer/Midrange driver material:
Aluminium
Transmission range:
40...30.000 Hz Hz
Crossover frequencies:
3.000 Hz Hz
System performance:
120 Watts Hz
Advanced connection information
Transmission Front Plate:
no
Height-adjustable unit feet:
no
Virtual centre in 4.0 operation:
no
Preparation for wall mounting:
yes
Wall mounting possible:
no
Midrange adjustment:
+-6dB
Tweeter adjustment:
+-6dB
Extended special features
Suitable for ceiling mounting:
no
Volume adjustment per speaker:
yes
Setting the listening level per speaker:
yes
Voice function - for better voice reproduction in stereo & surround:
yes
Equalizer - adaptation to spatial conditions:
yes
Integrated bass management:
yes
Adjustable phase adjustment of the subwoofer:
yes
Dynamic Range Control - Setting the dynamic range:
no
Sleep timer - setting the switch-off time:
yes
IR learning function - controllable with TV / system remote control:
yes
Input-direct selection - ideal for system remote controls:
yes
Input-direct selection - ideal for system remote controls:
yes
Automatic switch on and off:
no
Configuration of the inputs - Input renaming:
no
LipSync function - for exact speech synchronisation:
no
System volume - setting the maximum level:
yes
Restore factory settings - Reset function:
yes
Wireless Speaker Pairing - Pairing the wireless speakers:
yes
Bluetooth Select - Selects BT input automatically:
yes
Autoplay function - Automatic Bluetooth® playback:
yes
Fabric cover with magnetic holder:
no
Sound settings can be saved to presets:
yes