Smart A 45 BS
Active wireless compact speaker
Find a distributor
Informations
Smart wireless technologie
Dolby Audio & DTS Digital Surround
Bluetooth
22,5 x 40 x 37,2 cm
Item no.: 04146
Excellent sound
Thrilling TV and music sound with Dolby Audio
Easy operation
Operating keys and remote control for direct contro
Extension
Flexibly expandable with smart speakers and subwoofer
High quality
High quality manufactured according to Canton quality standards
Sound settings
Multiple setting options via integrated menu
Stereo & Home Cinema
Suitable for many applications
More
Less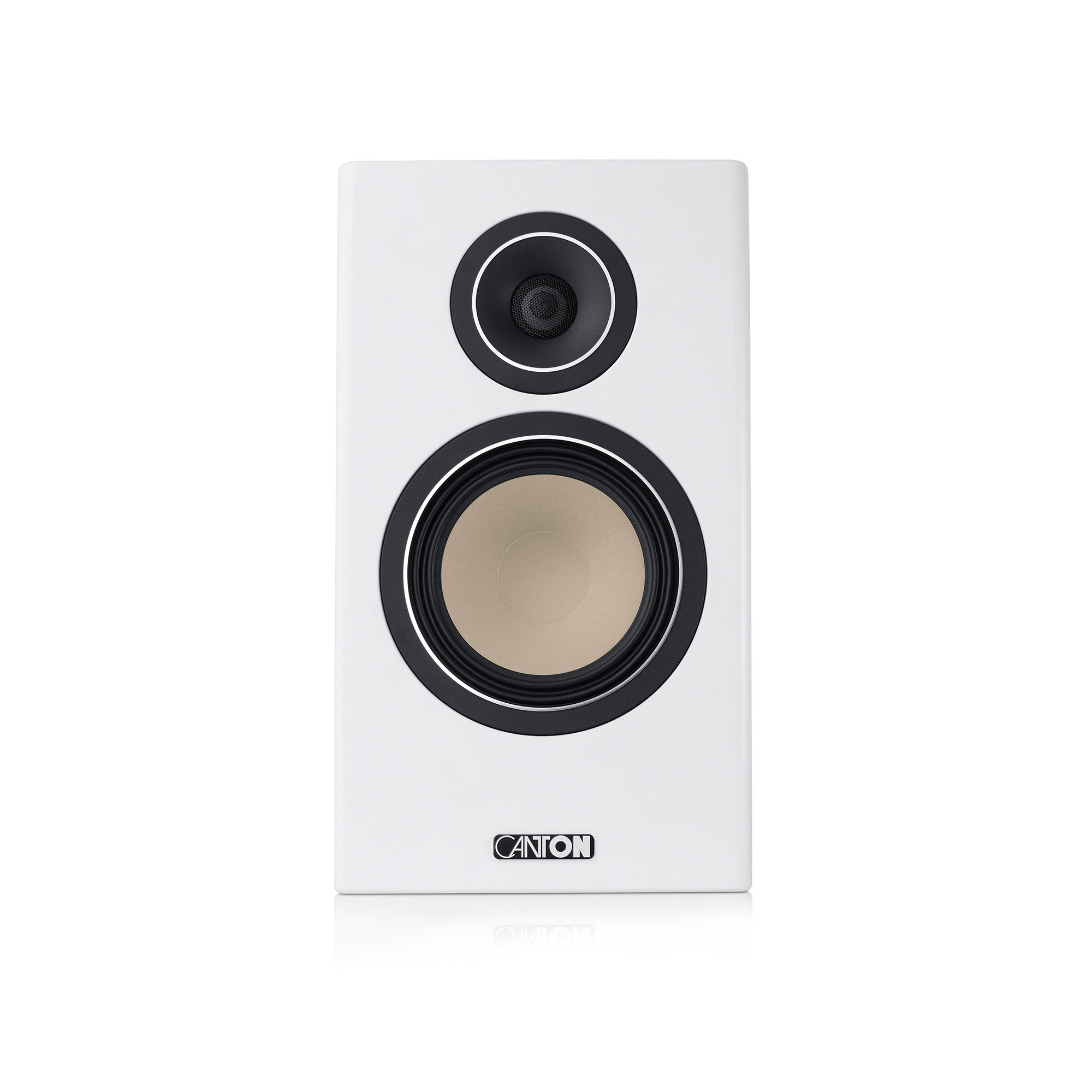 High End

Simple as never before
The Smart A 45 BS is available exclusively from our online store or directly from our factory in Weilrod. They offer the finest hi-fi sound as stereo speakers and are also perfect as a complement to our Smart A 45 or Smart A 25 speakers. In them are the best genes from our Reference series, the highest quality drivers with aluminum-ceramic tungsten diaphragms and our many years of experience in speaker construction. Added to this is the incredibly good equipment, which makes our Smart A 45 BS very flexible in use. Thus, the Smart A 45 BS become visually and price highly attractive speakers - with the incomparably good Canton sound for unadulterated listening pleasure in your home.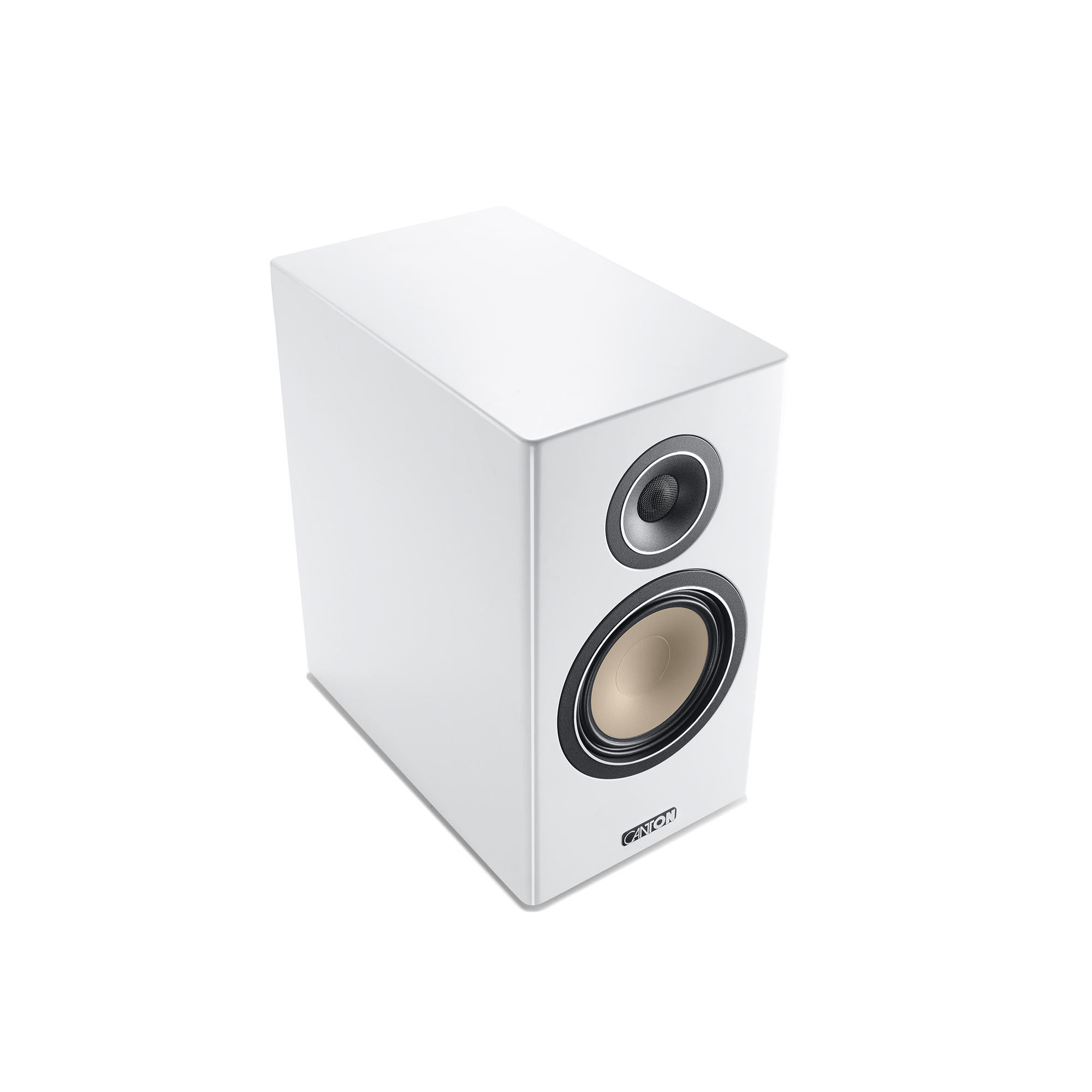 Real sound

from compact loudspeakers
Like all our loudspeakers, the Smart A 45 BS is manufactured in our factory in Weilrod. This is the only way we can maintain the necessary quality standards, minimize tolerances, eliminate any defects and keep the high sound demands on our speakers. The cabinet of the Smart A 45 BS is constructed from high-density fiberboard (HDF) and is immune to sound-damaging resonances due to its material thickness and internal bracing. The surfaces of the simple, elegantly designed compact speakers are painted in several layers and elaborately finished. They are available in shimmering satin white and high-gloss black finishes. The seamless diamond-cut aluminum rings of the speaker chassis further enhance the Smart A 45 BS.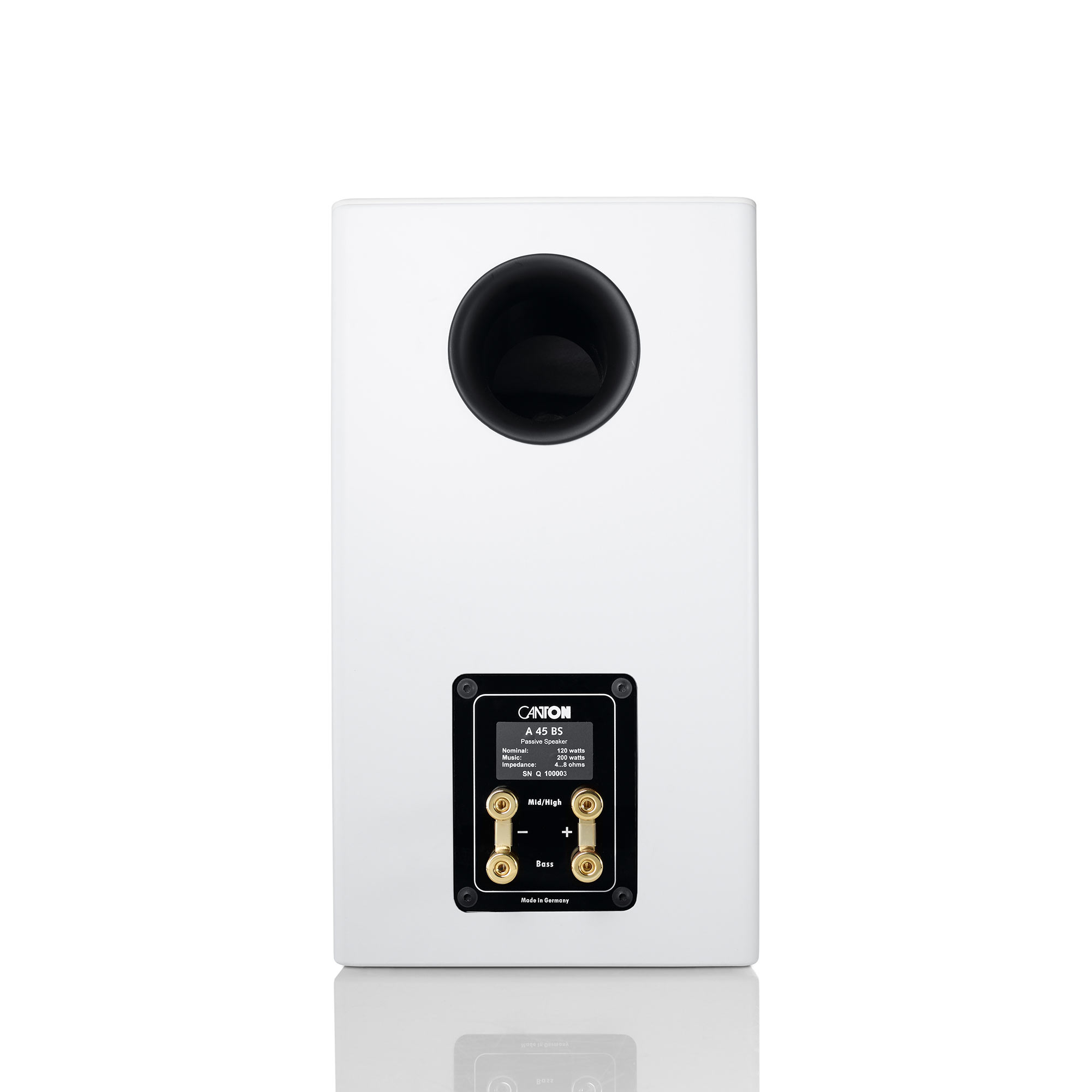 The compact Smart A 45 BS are opulently equipped and make commissioning very easy for you. Numerous analog and digital inputs are available to connect any source devices with the smart speakers. Whether you prefer the XLR or RCA version is entirely up to you. On the digital side, choose one of the optical or coaxial inputs or connect a computer via USB input with XMOS to the Smart A 45 BS. Best sound quality is also guaranteed when playing via Bluetooth thanks to apt-X decoding. So that you can start playing music immediately after unpacking, we supply a selection of cables right away.
Smart compact loudspeaker

Tutorial
In this video, we will show you the most important connections, functions and all other features that apply to both the Smart floorstanding speakers and the Smart compact speakers.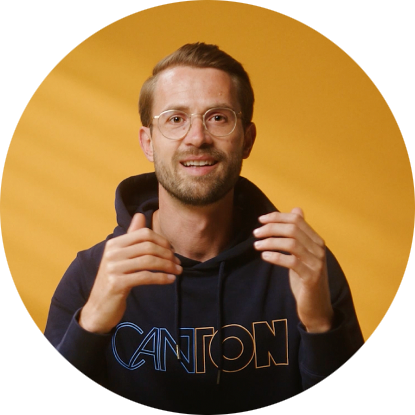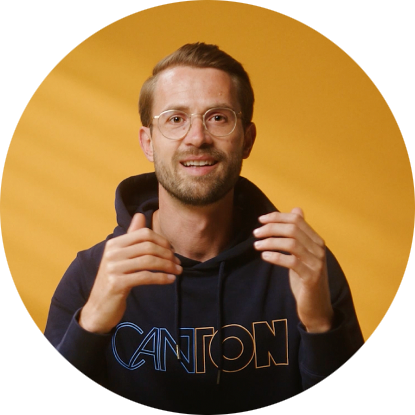 Smart A 45 BS
Technical specifications
Smart A 45 BS
Item no.: 04146
Shipping:
Package
Carton contents:
1 x Smart A 45 BS (Master) 1 x Smart A 45 BS (slave) Remote control Power cable Optical digital audio cable (1.5m) Coaxial digital audio cable (1.5m) Analog stereo audio cable (1.5m) Instruction manual
Packing dimensions:
46 x 53 x 36 cm cm
Dimensions (WxHxD):
W: 22,5 cm (8.6") H: 40 cm (15.7") D: 36,5 cm (14.4") | 37,2 cm (14.6") with fabric covering cm
Acoustic principle:
2-way bass reflex system
Principle passive resonator:
Bass reflex
Radiation direction resonator:
Backfire
Tweeter material:
Aluminium oxyd ceramic
Woofer/Midrange driver quantity:
1
Woofer/Midrange driver size:
180 mm
Woofer/Midrange driver material:
Ceramic tungsten (Wave surround)
Transmission range:
25...30.000 Hz Hz
Crossover frequencies:
3.000 Hz Hz
System performance:
350 watts per speaker Hz
Standby power consumption ECO/NSB/AUT/MAN:
0,5 / 1,5 /.../ 0,5 watts
Cabinet material:
high density fiberboard (HDF)
Cabinet surface:
lacquered and refined
Connections:
1 x Analogue input (chinch) 1 x Bluetooth® 3.0 Interface (apt-X® Decoding for transmission in CD quality) 1 x Digital Input (coaxial) 1 x Digital Input (optical) 1 x USB-Input with XMOS® technology 1 x XLR (Balanced)
Advanced connection information
Bluetooth® profile:
A2DP 1.2, AVRCP 1.3
Supported codecs:
apt-X/ SBC
S/PDIF input (coaxial):
1 x Cinch 24 Bit/96kHz
S/PDIF input (optical):
1 x TOSLink 24 Bit/96kHz
USB input:
USB 2.0 Typ-B PCM 24 Bit/96kHz / XMOS
Balanced (symmetrical):
1x Mono 2V effektiv XLR
S/PDIF OUT (coaxial):
1 x Cinch 24 Bit/96kHz
Subwoofer output:
1x Cinch Mono 2V effective/No
Wireless network for connecting additional Smart Loudspeakers (Cantonet):
5 GHz / 2 Audio-Kanäle 24Bit/96kHz / 3-8 Audio-Kanäle 16Bit/48kHz
Dolby Atmos licensed:
yes
Woofer Wave surround:
yes
Transmission Front Plate:
no
Height-adjustable unit feet:
no
Supported sound formats (S/PDIF):
Dolby Audio®, DTS Digital Surround®, PCM 24Bit 96kHz
Virtualizer:
DTS TruSurround
Virtual centre in 4.0 operation:
no
Maximum possible output configuration:
5.1
Preparation for wall mounting:
no
Wall mounting possible:
no
Extended special features
Suitable for ceiling mounting:
no
Volume adjustment per speaker:
yes
Setting the listening level per speaker:
yes
Voice function - for better voice reproduction in stereo & surround:
yes
Equalizer - adaptation to spatial conditions:
yes
Integrated bass management:
yes
Adjustable phase adjustment of the subwoofer:
no
Dynamic Range Control - Setting the dynamic range:
yes
Sleep timer - setting the switch-off time:
yes
IR learning function - controllable with TV / system remote control:
yes
Input-direct selection - ideal for system remote controls:
yes
Input-direct selection - ideal for system remote controls:
yes
Automatic switch on and off:
no
Configuration of the inputs - Input renaming:
yes
LipSync function - for exact speech synchronisation:
yes
System volume - setting the maximum level:
yes
Restore factory settings - Reset function:
yes
Wireless Speaker Pairing - Pairing the wireless speakers:
yes
Bluetooth Select - Selects BT input automatically:
yes
Autoplay function - Automatic Bluetooth® playback:
yes
USB Soundcard use:
USB 2.0 Typ-B PCM 24 Bit/96kHz / XMOS
Fabric cover with magnetic holder:
yes
Sound settings can be saved to presets:
yes