Whether inside or outside, in the wall or in the ceiling - it has to sound good, everywhere. When you equip your home with speakers, there are many ways to combine music enjoyment and modern design with style and sound flexibility. Our range includes wall speakers, ceiling speakers,outdoor speakers and much more.
The Premium models of the 909 series are, like all our in-wall speakers, 2-way systems and round off the range of our in-wall and in-ceiling speakers at the top. Reference technology, high-quality ceramic cone material and an elegant, frameless front grille are the hallmarks of our Premium Series.
Premium Series
Frameless metal grille
Diaphragm material: ceramic
Swivelling ceramic tweeter system
Our 805 Series InWall and InCeiling speakers feature a metal grille with a discreet frame that is invisibly held in place by magnets. In addition, there is an aluminium tweeter system that can be adjusted in dispersion angle and reproduction level, and a woofer system with an aluminium cone and powerful magnetic drive.
Mid-range series
Metal grille with discreet white frame
Membrane material: aluminium
Pivoting aluminium: tweeter system
The models of the 403 series are for sound purists and represent the entry into the world of Canton built-in speakers. Solid chassis technology made of polypropylene with swivelling fabric tweeter systems allow a sound adjustment to the chosen installation location. The long-stroke polypropylene woofer systems guarantee high level stability for any application.
Baffle with enclosing white rim
Diaphragm material: polypropylene
Pivoting soft-dome tweeter
The models of the 855 series are in-ceiling speakers with 100 volt / 70 volt technology. The built-in speakers with high-quality ceramic as diaphragm material are available in three versions: without fire protection basket as well as 2 versions with integrated rear fire protection basket. Underneath the magnetically held metal grille, there is a switch for the adjustment to the amplifier. Power gradations can be set by hand - 100 W, 50 W and 25 W in 100 volt operation as well as the switch position 8 Ohm for private use.
100 Volt / 70 Volt loudspeaker
Baffle with discreet white frame
Diaphragm material: aluminium
Swivelling aluminium tweeter system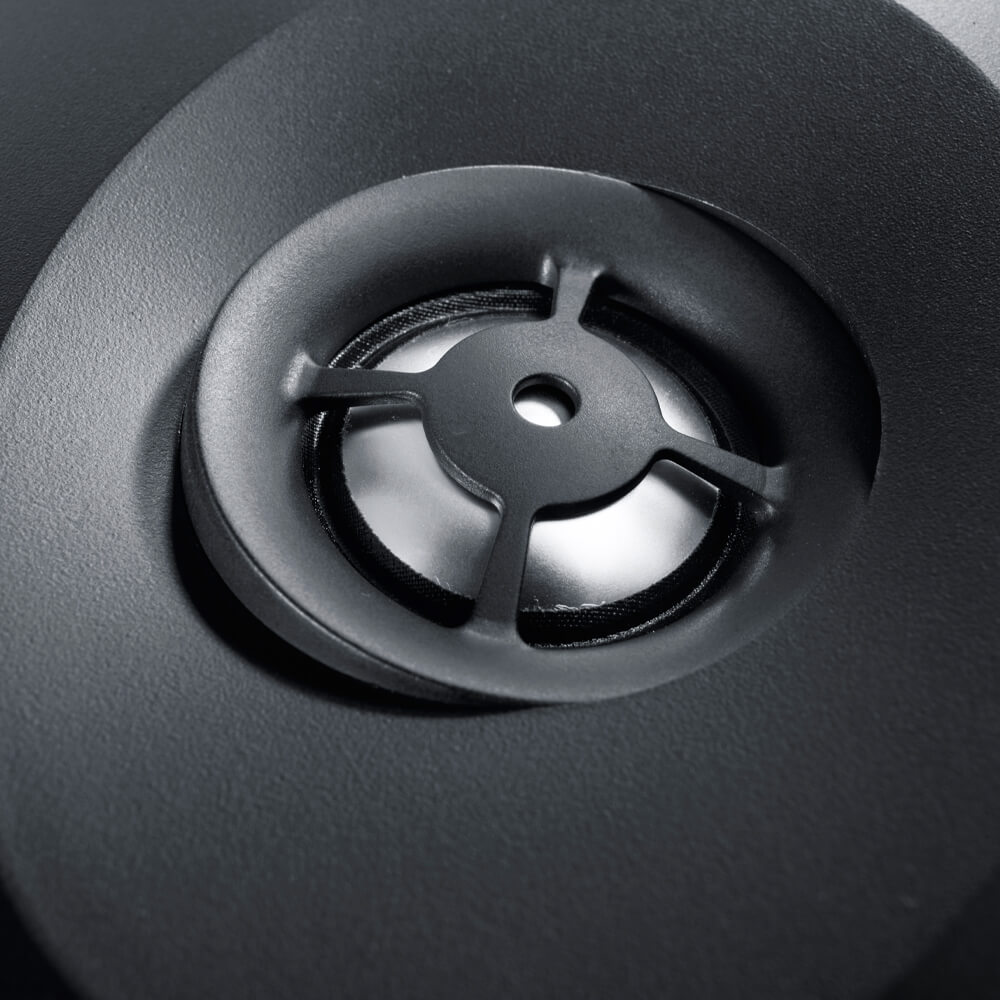 The swivelling tweeters enable pinpoint alignment and increase flexibility in the choice of installation location.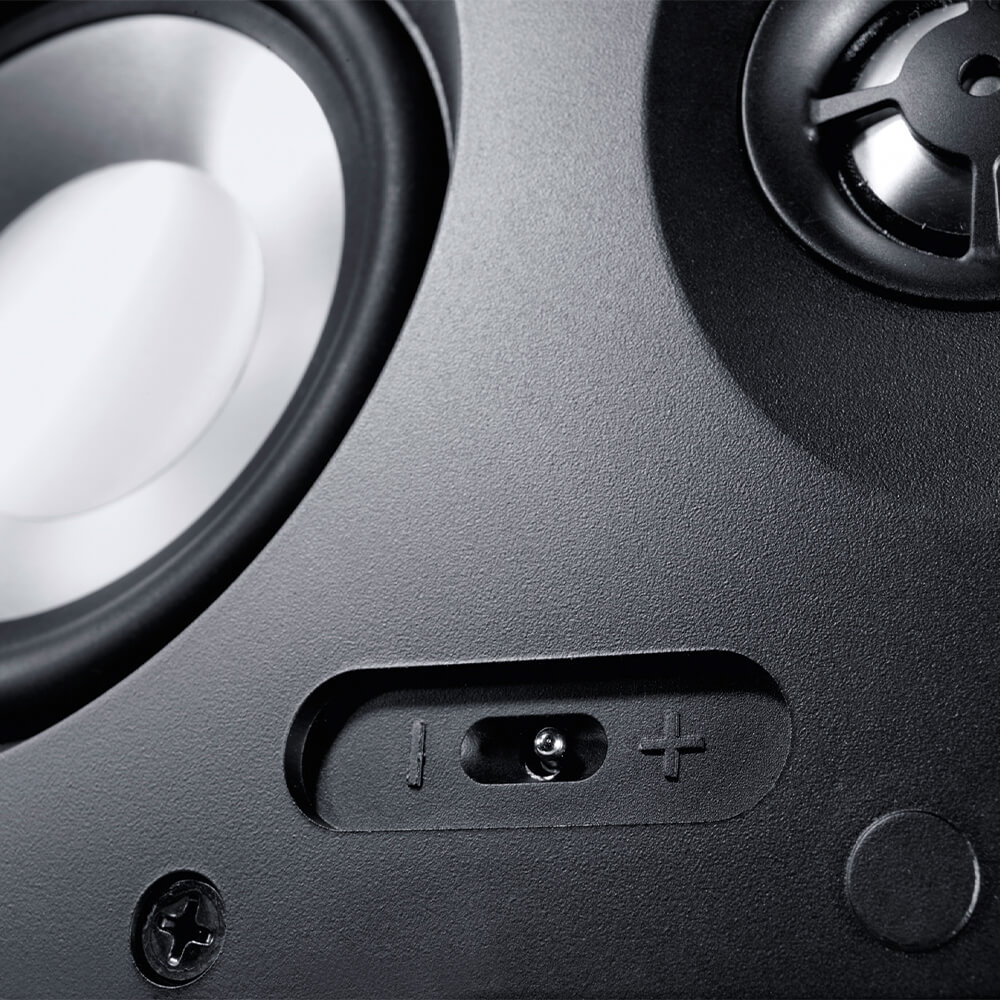 With the tweeter level adjustment, the sound disadvantages of unfavourable installation locations can be compensated and the speakers can be individually adjusted.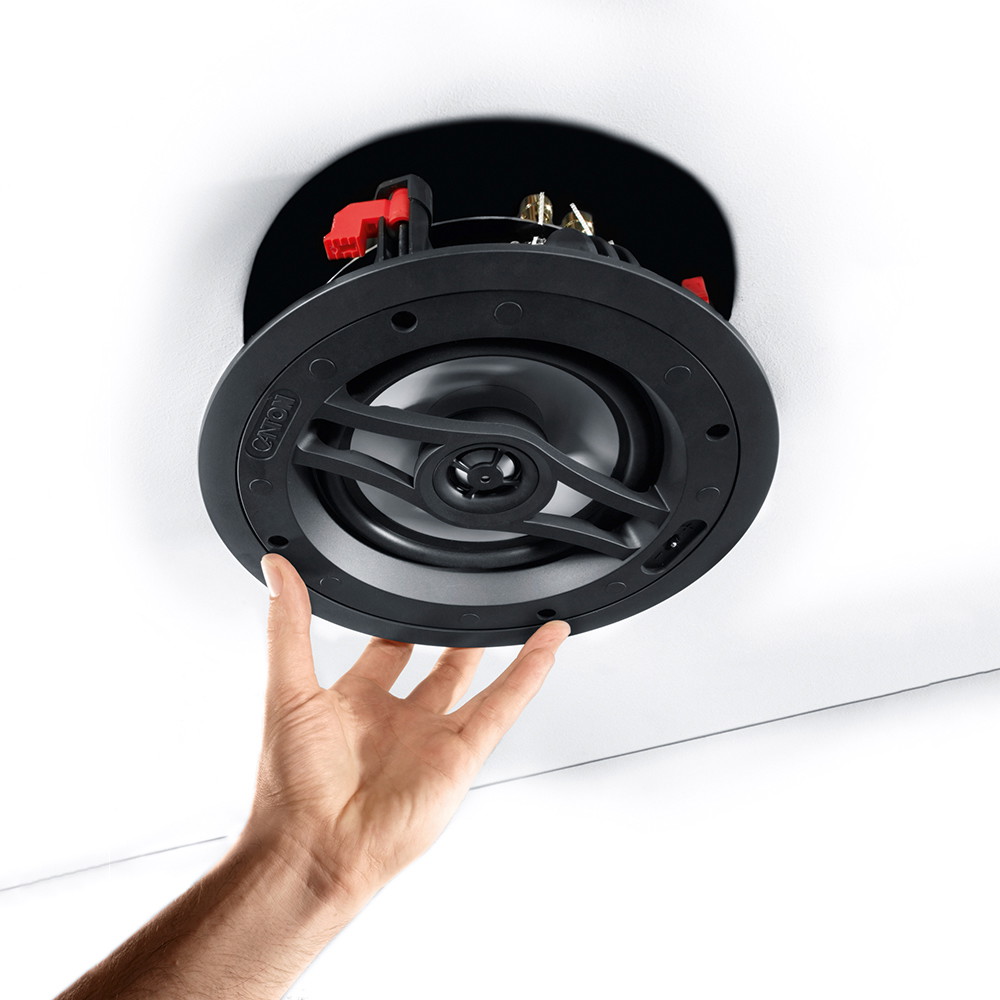 With the practical "Easy-Link" connections, the speaker cables can be permanently connected in a stable manner, and the fold-out wing brackets enable a secure hold in the wall.