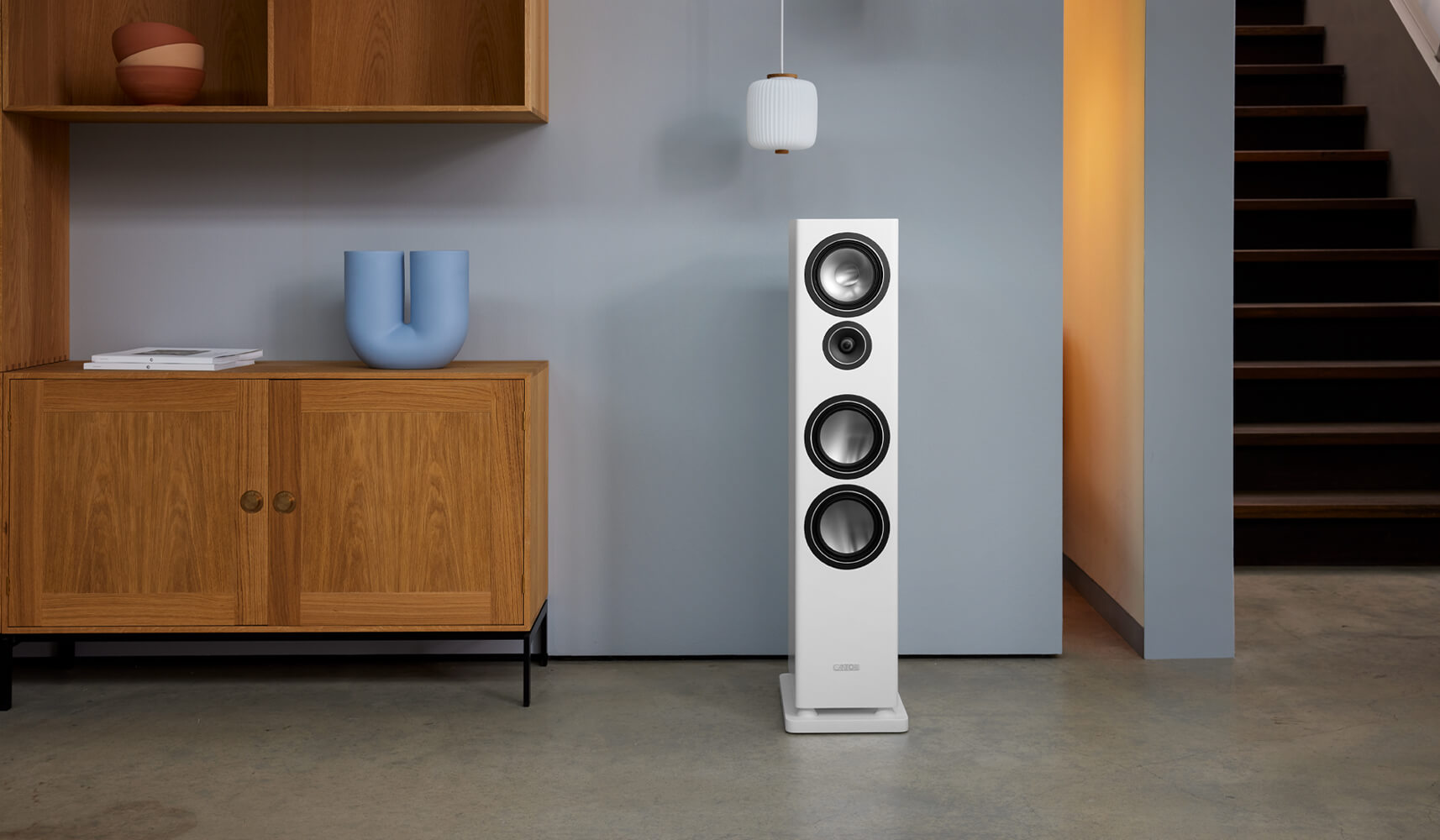 The name Townus is a play on words from the german region Taunus and Town and connects the modern city dweller with the origin of the loudspeaker and the rural nature of Canton. The elegant and timeless shape with rounded edges, paired with high-quality technical components, make the new Townus speakers a series that can be used flexibly.
Timelessly elegant, slim and classy, our new Townus speaker series catches the eye with its modern design language and high-quality materials. Rounded cabinet edges, paired with high-quality technical components, and a variety of stereo and home cinema models, make the new Townus speakers an attractive, flexible series. The noble walnut real wood veneer with perfect surface finish and the immaculately lacquered cabinets in silk matt white or high-gloss black underline the premium claim of our new Townus speaker series.
PASSIVE COMPACT & FLOORSTANDING SPEAKERS

In the elegant Townus speakers, we rely on the excellent technical properties of our titanium and ceramic drivers, which were developed through extensive research work at Canton. The titanium woofers and midrange drivers are characterised by their enormous stability and low weight. This makes them agile-sounding drivers that can follow every acoustic signal effortlessly and precisely. The tweeters with 25 mm aluminium oxide ceramic diaphragms are an ideal match, offering a detailed and accurate sound image. Last but not least, the meticulous tuning of the crossovers and the high quality of the crossover components ensure the strikingly good Canton sound.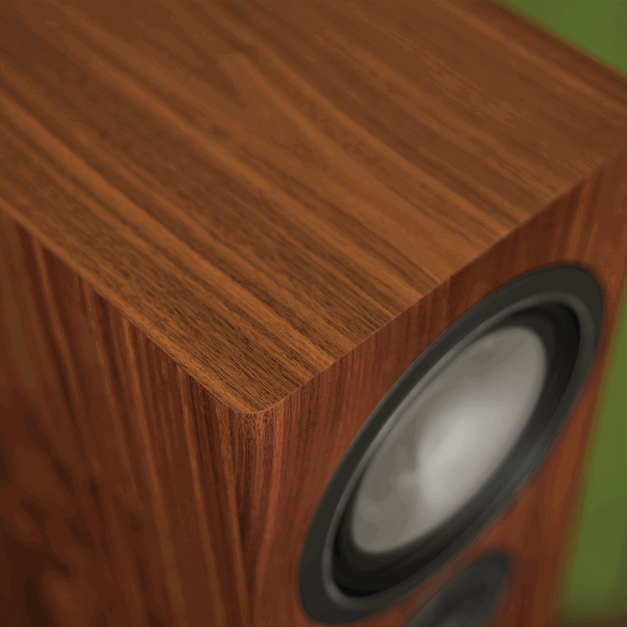 HIGH-QUALITY

CASING SURFACES
The modern yet timelessly elegant Townus speaker series harmonises with many interior styles thanks to the different cabinet finishes available. Immaculately crafted cabinets in white satin or black high-gloss lacquers as well as precious walnut real wood veneers with a perfect finish underline the premium claim of our new Townus speaker series.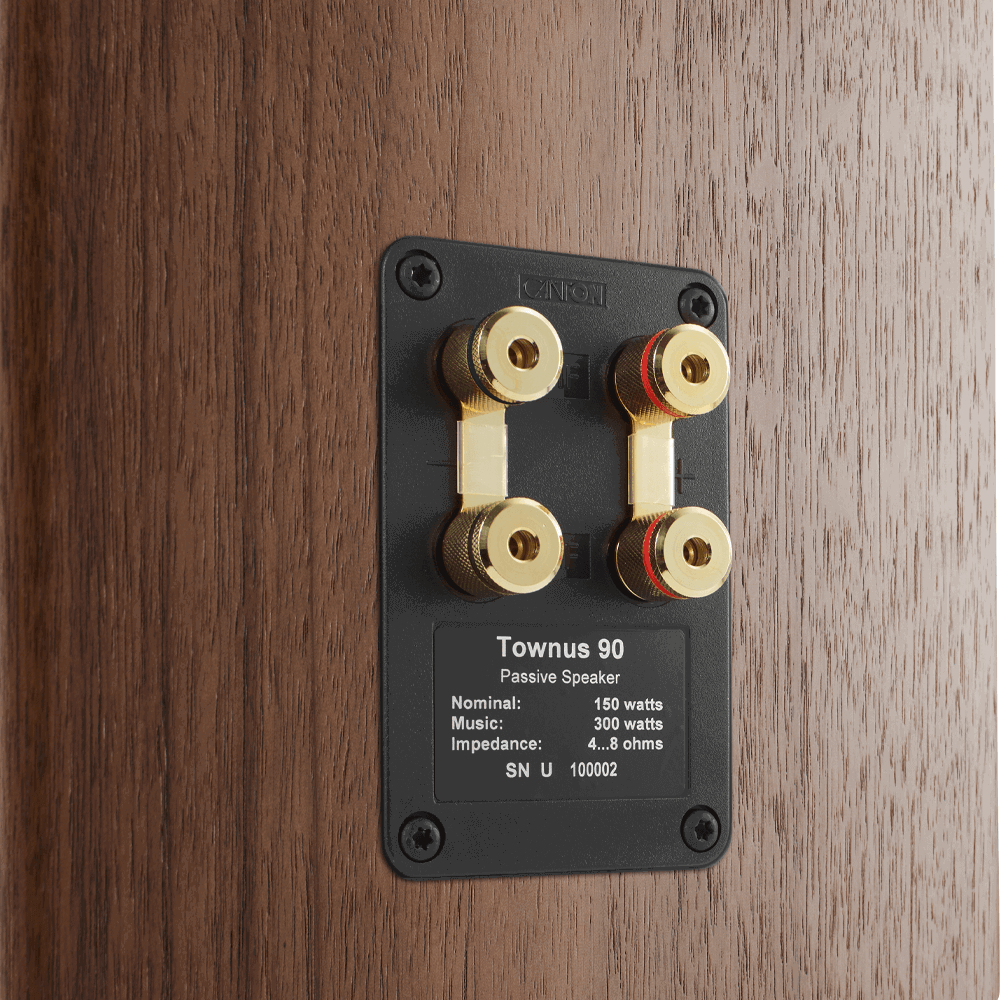 NEW GOLD PLATED

TERMINALS
The high-quality gold-plated screw terminals with a receptacle for cable cross-sections up to 10 mm² offer maximum conductivity and guarantee long-term stable contact. The single-wiring connection terminal, which is flush with the rear panel, provides a uniform appearance and is equipped with high-quality components.
The high-quality and acoustically neutral fabric covers in black conceal the direct view of the technology when required and adhere elegantly to the baffles via magnetic fastening. With the new appearance of the oval fabric covering, the GLE series nestles into any modern living room.