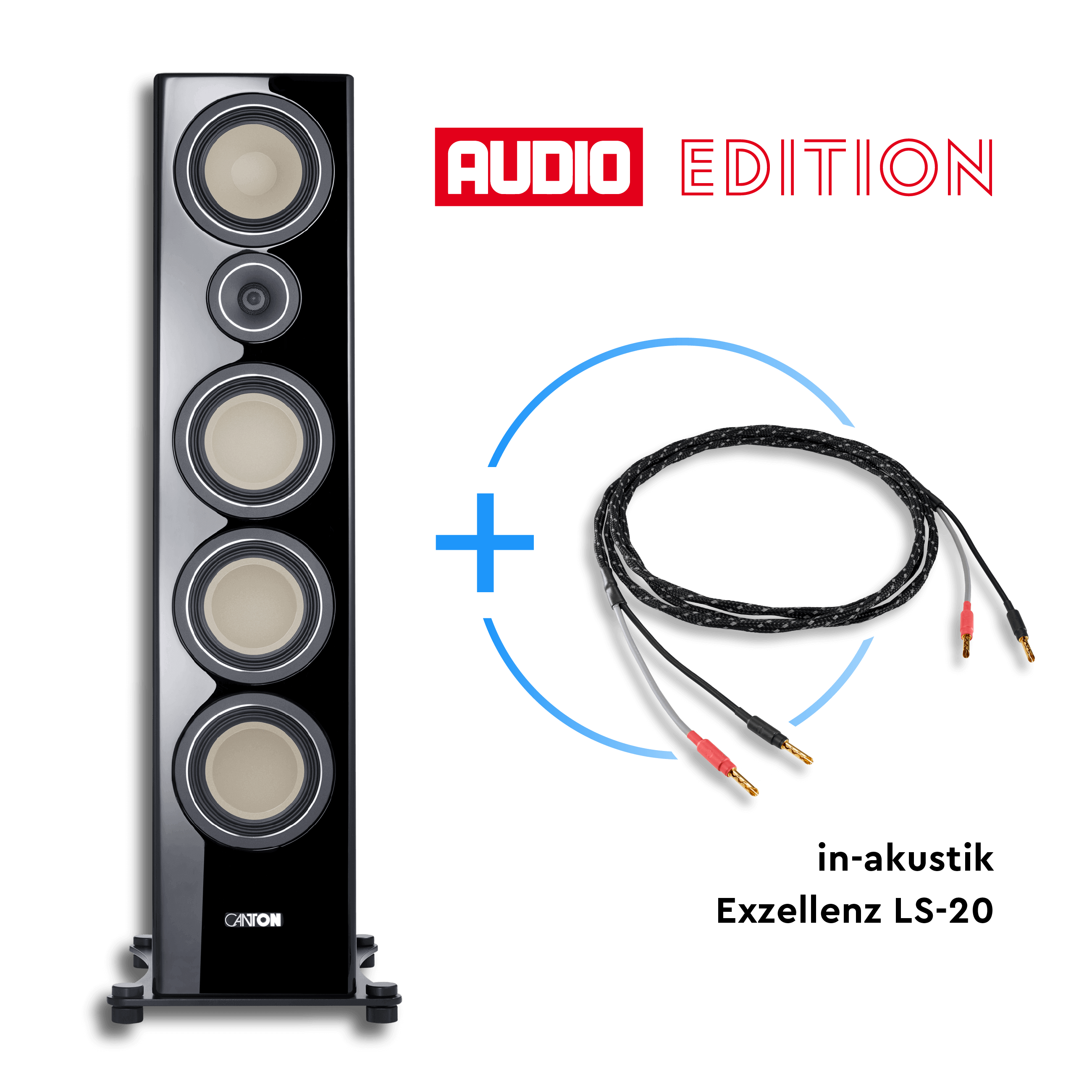 A 45 AUDIO Edition
Standlautsprecher
Informations
3-way downfire bass reflex system
340 watt music power handling
ceramic tungsten technology
magnetic fabric cover
Item no.: 04019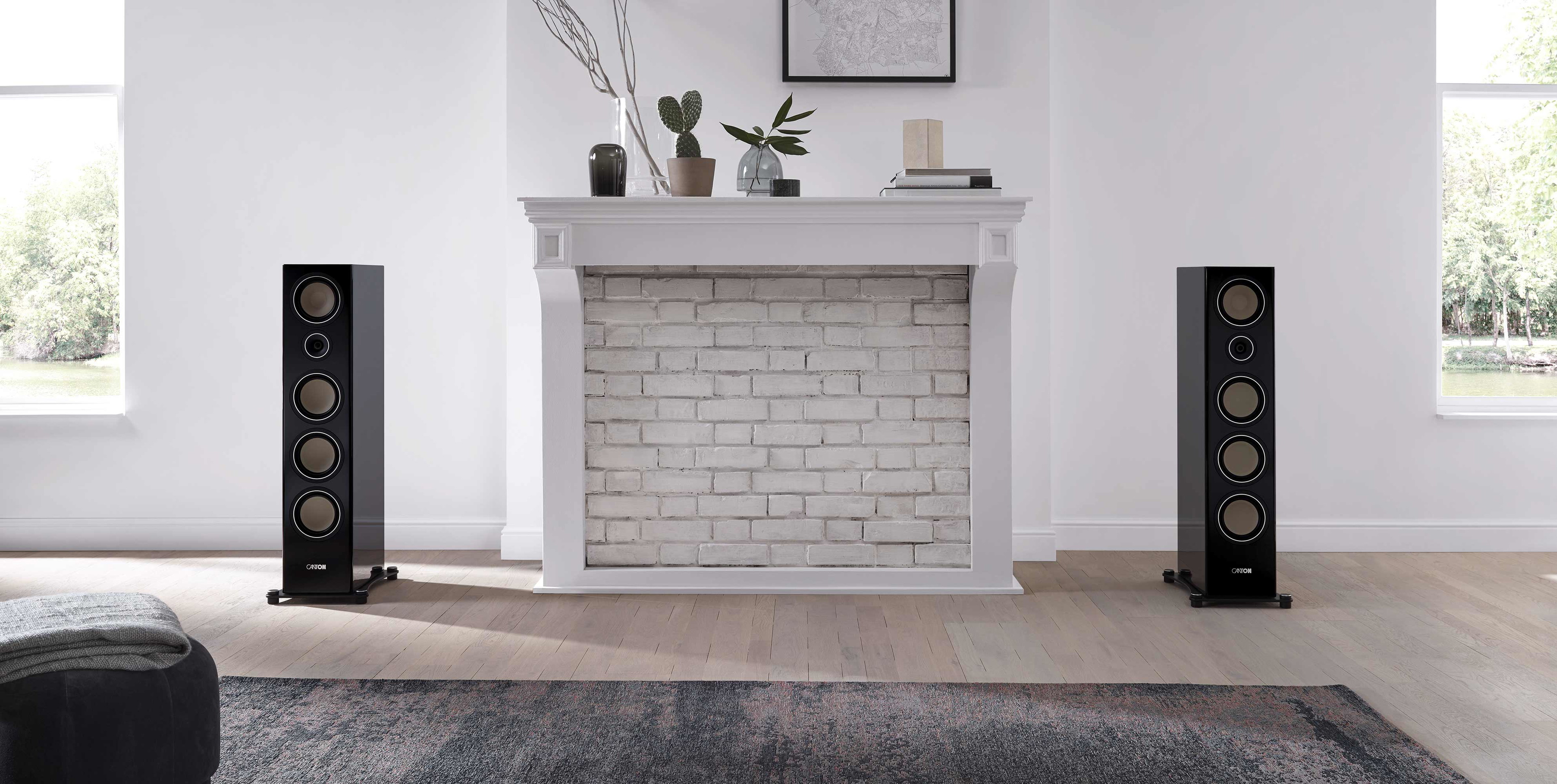 An anniversary with brilliant sound quality
Our anniversary loudspeaker A 45 is now available as the A 45 AUDIO Edition with Canton loudspeaker technology and optimized components from inakustik, Mundorf and WBT. The reason for this is two anniversaries - the 45th birthday of us and the 40th birthday of AUDIO. So it became the task of Canton chief developer Frank Göbl and AUDIO chief editor Andreas Eichelsdörfer to make the best even better.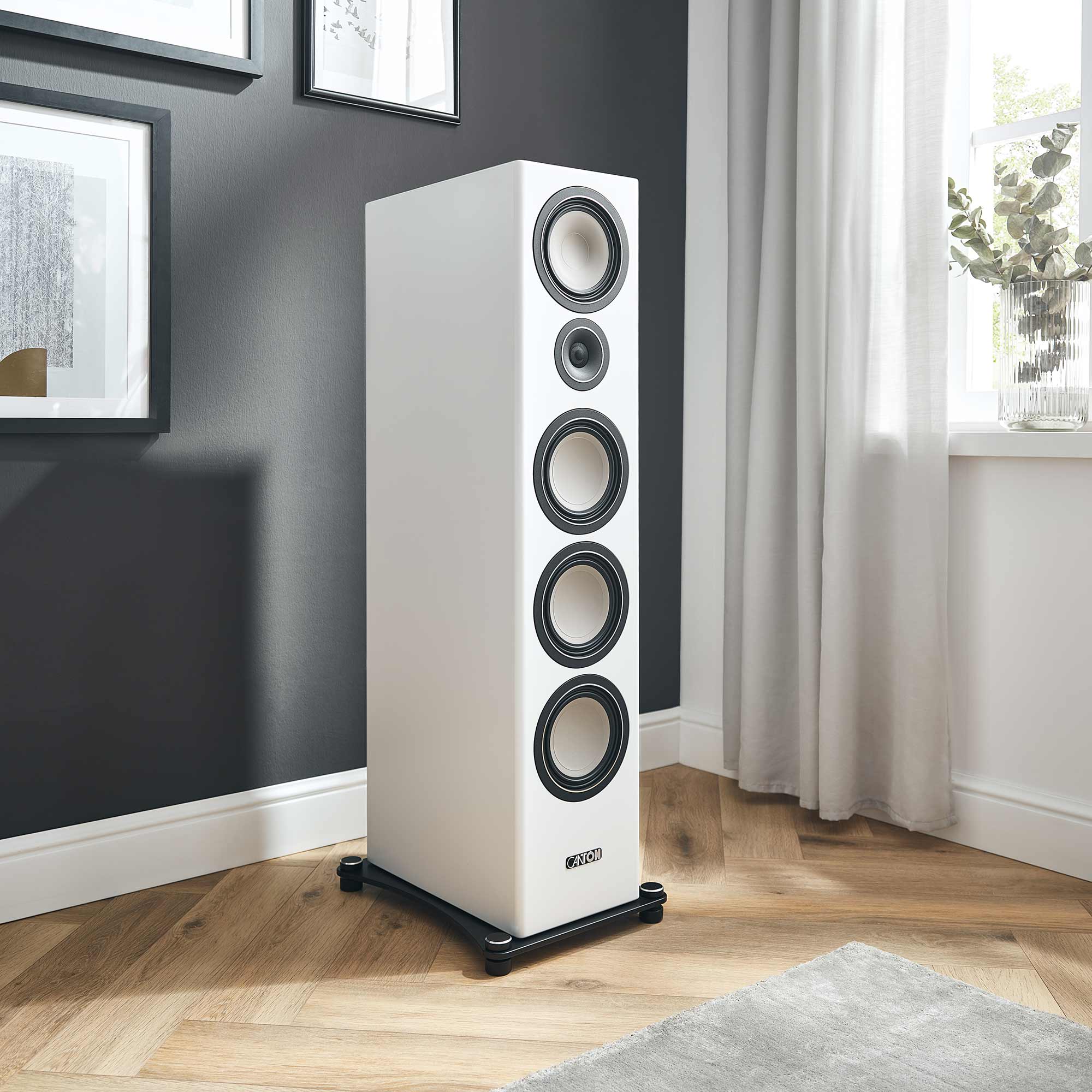 With the A 45 AUDIO EDITION, a very special loudspeaker was then created. Optimized the high and mid-range by using fine Mundorf capacitors on the crossover. High-end fine silver pole terminals WBT-0710 Ag nextgen for bi-wiring and bi-amping ensure loss-free connection. For the internal wiring, the choice fell on the In-Akustik Excellence LS-20, a very high quality speaker cable that will soon also appear in an AUDIO edition. Thus, the cabling from the amplifier to the chassis is from a single source.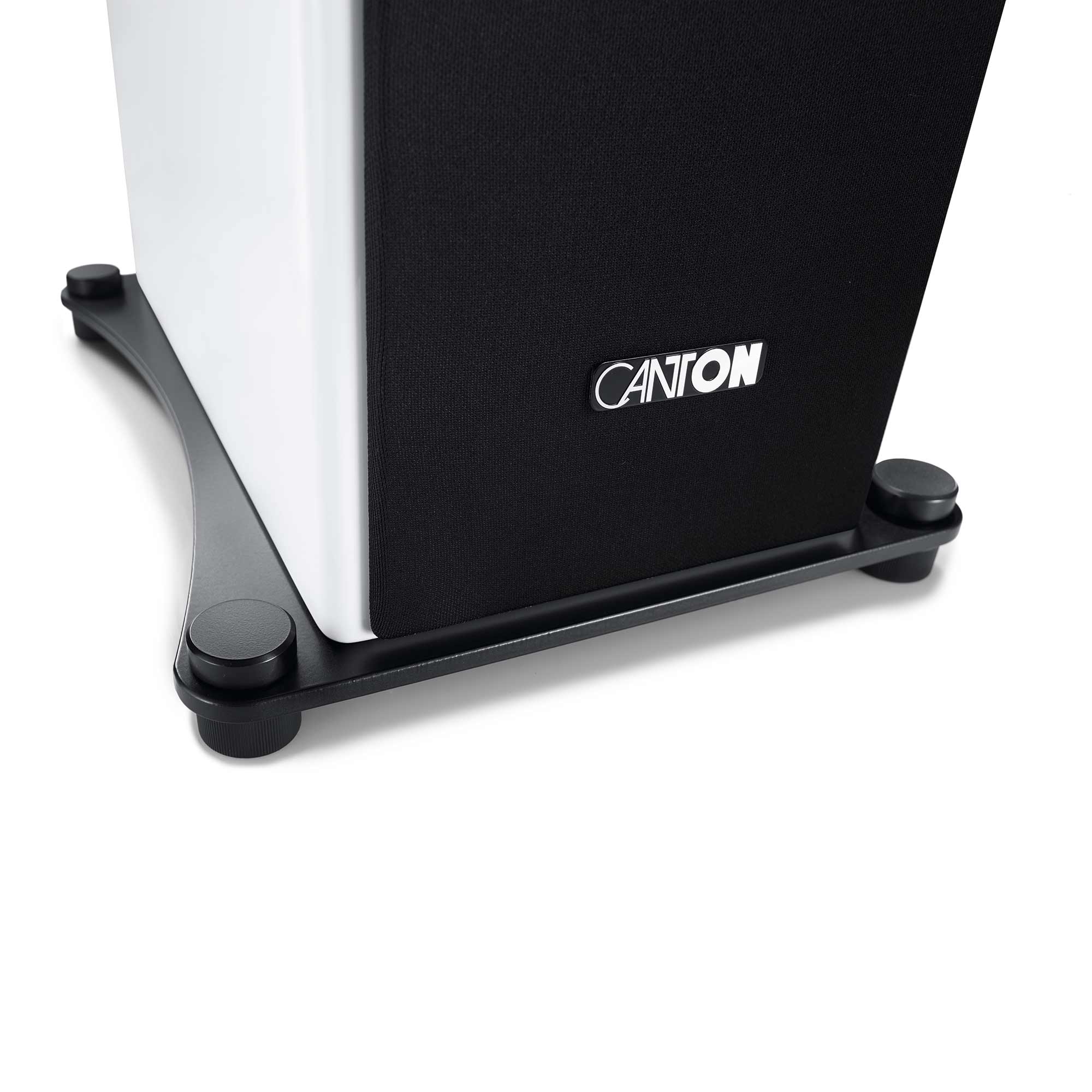 In the A 45 AUDIO Edition, as in our anniversary loudspeaker A 45, ceramic drivers are used as diaphragm material in the high, mid and low frequency range. The solid, extremely rigid cabinet with additional struts in white satin and black high-gloss finish is a real highlight from 45 years of loudspeaker construction by Canton thanks to the optimized rounded edge refraction. The floorstanding speaker with 3-way downfire bass reflex system is given an elegant face by the new curved aluminum base construction and forms the foundation for perfect standing. The intricately turned aluminum equipment feet are height adjustable and show the attention to detail of the A 45. Another visual highlight are the new screwless Diamond-Cut aluminum rings. The result is a modern and clean look with no screws to be seen. The elegant, high-gloss surface finish in black "high-gloss" or in white satin is applied, sanded and elaborately polished in 8 work steps. The high-quality and acoustically neutral full-size fabric covers in black conceal the direct view of the technology if required and can be elegantly attached via magnetic fastening.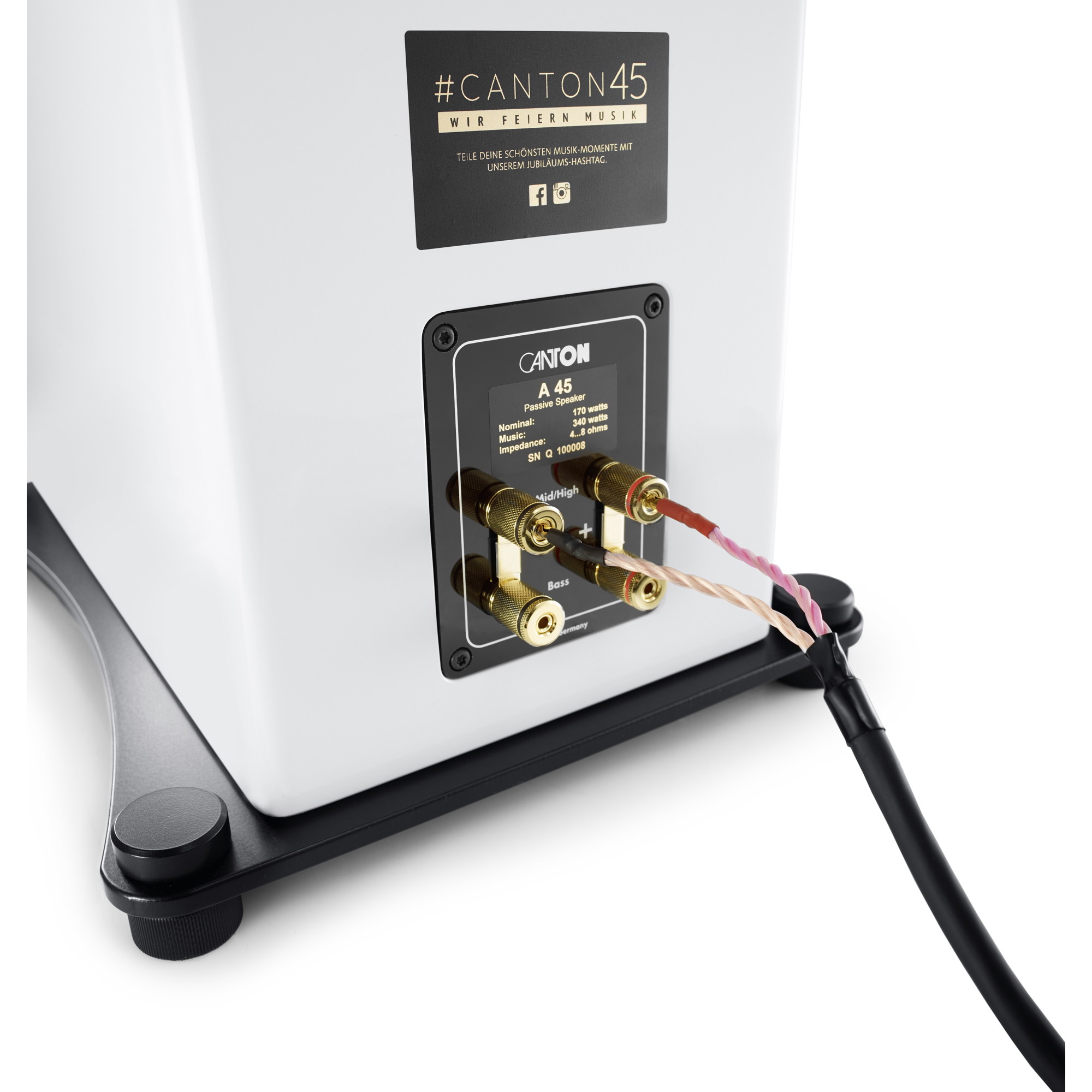 The A 45 AUDIO Edition, like all our speakers, is handmade in our Weilrod factory, carefully inspected and securely packed in environmentally friendly boxes. This enables us to guarantee you the best possible quality and to maintain the high sound standards of our speakers.
A 45 AUDIO Edition
Technical specifications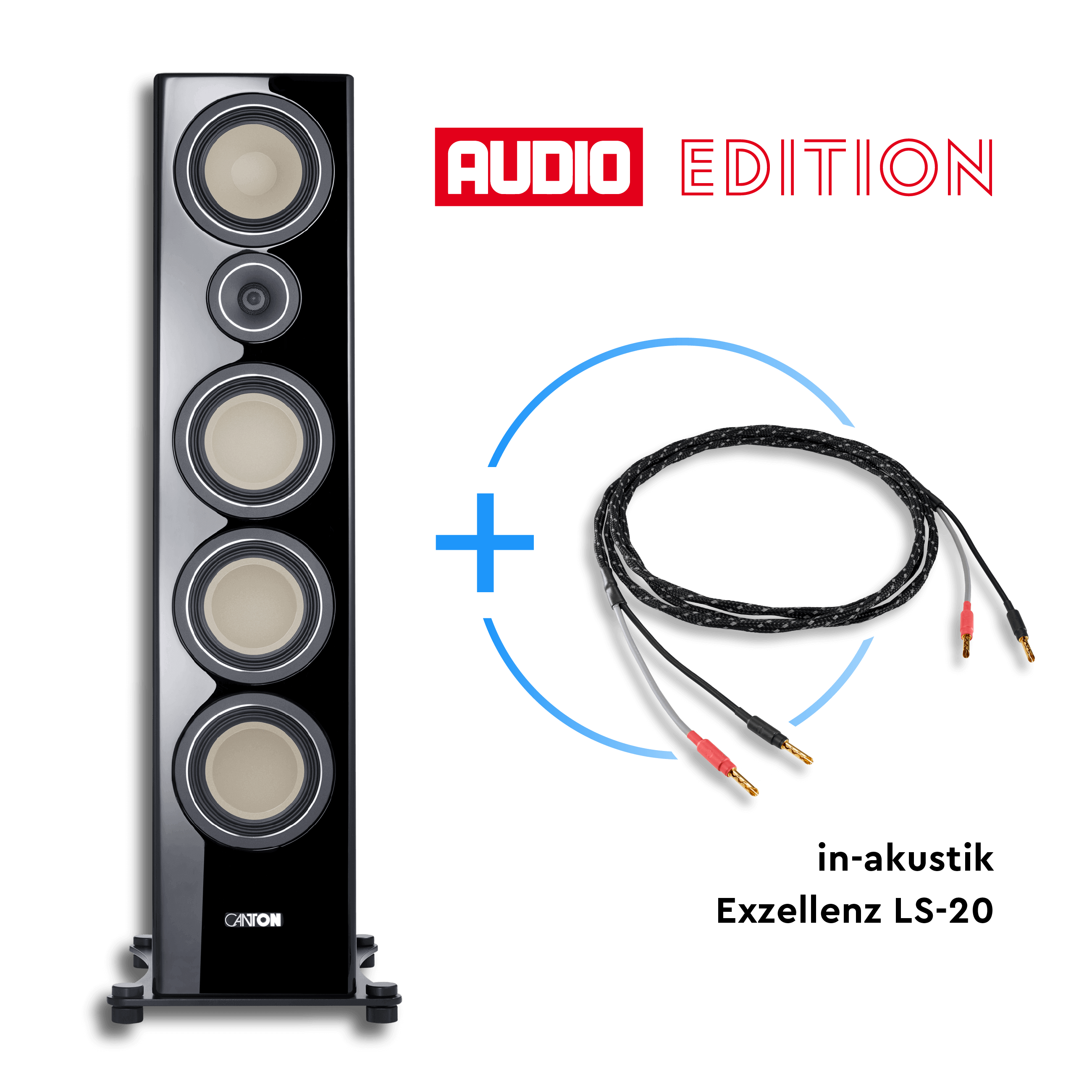 A 45 AUDIO Edition
Item no.: 04019
Shipping:
Pallet
Warranty period:
5 years
Available accessories:
CantoLink 400
Carton contents:
A 45 AUDIO EDITION device feet fabric cover with magnetic holder operating instructions
Packing dimensions:
121 x 59 x 40,5 cm
Dimensions (WxHxD):
32,5 x 107,2 x 43 cm
Acoustic principle:
3-way downfire bass reflex system
Principle passive resonator:
Bass reflex system
Radiation direction resonator:
Downfire
Tweeter material:
aluminum oxide ceramic
Midrange driver quantity:
1
Midrange driver size:
174 mm
Midrange driver material:
aluminum-ceramic-tungsten
woofer material:
aluminum-ceramic-tungsten
Nominal load capacity:
170 watts
Music load capacity:
340 watts
Transmission range:
22...40.000 Hz
Crossover frequencies:
220 / 3.000 Hz Hz
Efficiency 2.83V/1m:
88,5 db db
Woofer Wave surround:
yes
Front cover material:
full size fabric cover
Level adjustment tweeter:
no
Transmission Front Plate:
no
DC switch technology:
yes
Cover rings (material):
aluminium
Indoor wiring:
In-Akustik Excellence LS-20
Unit socket included:
yes
Size supplement (WxDxH):
100x3x3,2 cm
Height-adjustable unit feet:
yes
Bi-Wiring / Amping Terminal:
yes
Extended special features
Terminal contact material:
fine silver pole terminals WBT-0710 Ag nextgen
Mounting type front cover:
magnet attachment
Terminal banana plug suitable:
yes
Preparation for wall mounting:
no
Wall mounting possible:
no
Suitable for ceiling mounting:
no